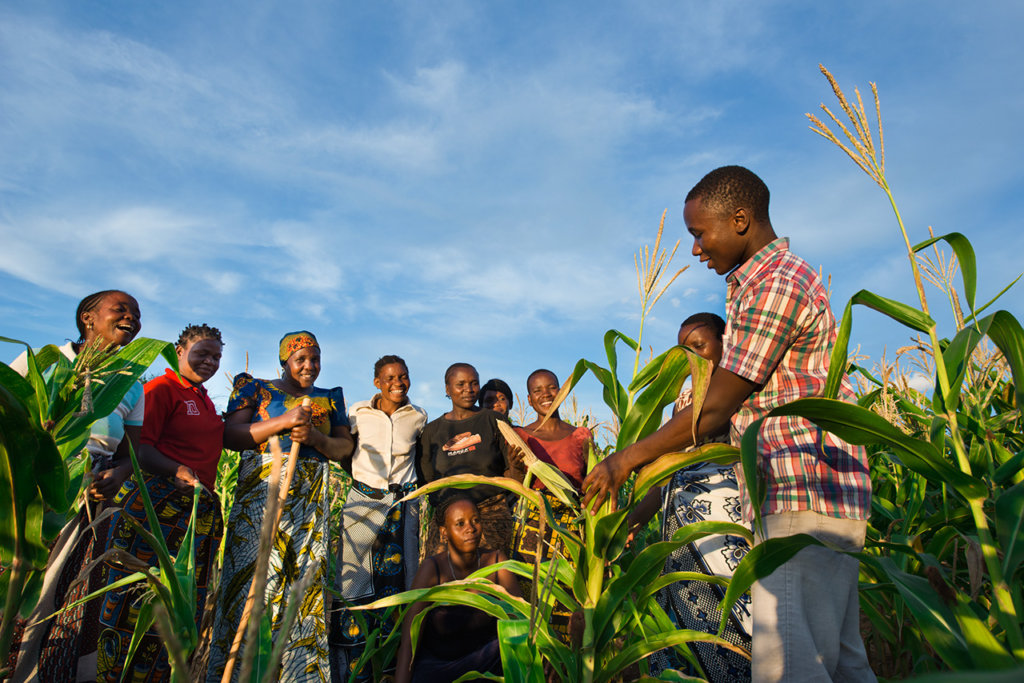 In 2013, BRAC began a project to raise incomes for 105,000 smallholder farmers in Tanzania. How do you break down barriers to the market for thousands of rural, subsistence farmers, most of them women, and improve the quality of the product the farmers offer? Those are the challenges the Livelihood Enhancement through Agricultural Development (LEAD) project, now in its fourth and final year, seeks to address. We are excited to share our progress with you.
To improve the quality of the product offered, BRAC used demonstration farmers and community poultry promoters (CPP) to spread knowledge about modern techniques for corn and chicken production. To accomplish this, more than 600 CPPs have been trained. Additionally, BRAC specifically trained almost 100 community members to become veterinary and agriculture technical experts who are also supporting farmers.
In our last report, we also discussed farmer field days, during which demonstration farmers showcase modern techniques and tools for community members to learn new farming innovations. Nearly 450 field days have been recorded, and the results are stunning:
Corn farmers reported that the following practices were adopted:
Line sowing, which helps farmers grow more crops, saw an increase of 56 percent, with 94 percent of farmers participating in the practice after training;
Modern weeding techniques swelled 17 percent, to 99 percent after training;
Using a crop calendar, which can help farmers keep production costs low, increased 37 percent, with 96 percent using a calendar after training;
and fertilizer use jumped 28 percent, to 92 percent after training.
With your support, the LEAD project also created farmer groups, helping them share resources, boost production and improve bargaining power to sell crops at market prices. In a country where few smallholder farmers are able to transition to commercial farming practices, farmer groups can help individual farmers access local, regional and national buyers. More than 8,000 groups have been formed.
Another key factor limiting access to markets for most smallholder farmers is capital. Without cash, farmers cannot gain access to modern seeds and chicks or pay for pesticides and immunizations. We are proud to share that more than 20,000 farmers have financed their businesses with small loans, totaling more than $8 million.
More specifically, 50 entrepreneurs from 12 regions received cumulative investments of $722,375 to support their ongoing businesses. Results show their income increased by 99 percent, their production by more than 50 percent, and that repayment rates are at 99 percent.
Access to cash and new techniques and technologies also paid off. While corn farmers, on average, cultivated slightly less land after receiving trainings, their average yield per acre actually increased 62 percent. The greater yield and better access to markets contributed to a growth of 131 percent in yield sold. Overall, corn farmers earned 78 percent more per farmer than prior to their trainings.
For poultry farmers, the results have been equally inspiring. On average:
the number of eggs produced in a month rose 161 percent;
the number of eggs sold skyrocketed 362 percent;
and the average amount of capital from selling eggs jumped 274 percent.
For poultry farmers, overall, yield and income increased 400 percent and, for corn farmers, 194 percent after involvement in the LEAD project.
Nowhere is this more evident than with Josia, a 40-year-old resident of Kihesa who was previously a carpenter before trying his hand at poultry farming.
Prior to joining the LEAD project, Josia produced roughly 500 chicks each month, despite owning an incubator capable of hatching 1,000 chicks. Due to outdated techniques and disease, many chicks would die, and he would end up with only 200 to bring to market.
After joining the LEAD project in February 2015, Josia received training in modern techniques, access to veterinarians trained by BRAC and took out a loan to expand his business.
With new incubators, access to vaccines and a variety of eggs, Josia began producing nearly 3,000 chicks a month, and lowered the number of chickens that were dying. This increased his income from $183 a month to more than $2,250. After demand skyrocketed, he bought another incubator, and now sells an average of 10,000 chicks a month.
With the growth in business, he has hired three employees to help manage the hatcheries, and he has built a house for his family.
Thank you for supporting Josia and farmers like him in the LEAD project. Together, we are improving the lives of thousands of smallholder farmers in Tanzania, one crop at a time.