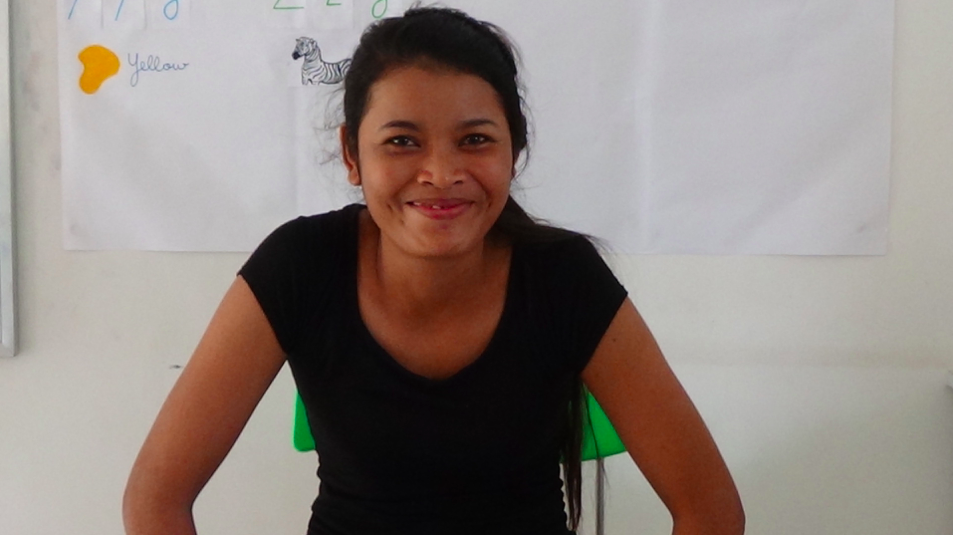 Phach entered the GATE Siem Reap scholarship program in March 2012 when she was in eighth grade. She continued through school and finished her 11th year but didn't manage to pass year 12.
She was referred to 'Bayon Pastry' training school by the STREAM program and won a scholarship for an 11-month comprehensive and fully residential Baker and Pastry- chef training program!!
Following is simply the most touching, heartfelt and appreciative interview I have ever done… and I have interviewed hundreds of girls from the poorest of poor families!
We met Phach at the Bayon training center and were simply stunned by her story and the extraordinary resilience and determination she possesses. Those skills have allowed her to overcome obstacles and enabled her to achieve an education. The education that she has earned will be able to lift her and her family out of poverty.
In her own words …
"Our family was extremely poor. We lived in a tiny wooden and thatch hut with a low roof, set on short stilts. In rainy season the water rose to an inch below the low wooden slat floor. There was a hole in the middle of the floor and I remember when I was four years old I sometimes used to fall into the water during my sleep. It terrified me."
Phach continued, "When I was 5 I somehow knew I was old enough to attend school and began pleading with my parents to send me. They said we are too poor to afford pens, books, uniforms etc so we can't send you, have patience, we will send you when we have some money. It was a full three years later, all the time asking them to send me and when I was 8 years old, my parents finally sent me to school."
Phach went on "From then and throughout my entire schooling, I never had 5 cents to spend on school materials let alone snacks at break time. My fellow students always asked me why do you stay in the classroom during breaks, why don't you come outside? The fact was, I didn't feel I could participate with the other children, I could not buy snacks as the other children did and chose instead to continue studying without break. I was always first in the class right through primary school and up to high school when my grades began to slide as I could not afford the extra tuition (that would have included material from the syllabus and which teachers hold back for paying students. A cruel habit of the Cambodian education system - author) In high school I slide from always being first to being around 20 of 50 in the class.
"When I started school I could never buy any books. I learned the alphabet by by 2nd grade memorizing the letters and words they made up. I didn't have a slate board or chalk so my parents cut a piece of wood plank for drawing on and used clay to fashion 'chalk' sticks I could use for writing. I borrowed my teachers text book and took it home to study it so I could learn as much as I could whenever I had time.
"Since starting school and until I received the scholarship from LO, much later, I used to walk 3.5 kilometres through thick jungle to get to school. It took me from 6am to 7am, one entire hour. Getting the scholarship from LO was incredible for me. (she begins to sob and can't continue her story till pulling herself together)
"Until I was in grade 7 I walked to school and until I received a bicycle from the program in 8th grade. Only since then did I have a bicycle, a new school uniform, shoes and the study materials I needed for school!
"Now here I am at Bayon pastry! I cannot believe I am here! This is like a dream. I am so happy, so appreciative, thank you so much Lotus Outreach. I am not hopeless anymore, I will work hard, I will become a success and earn a good salary. I will help my family… I just cannot believe I am here…
"When I was studying at Kandal HS, sometimes my bike broke down and I had to walk it home.. I would get home at 1pm and had to cook as my parents were away working on a farm some 100 kms away.. so I always had to cook for myself at that time…
"When I was in HS my parents were generally away and she stayed alone in a remote forest area… if they called me I would cry I was lonely and afraid, it was really very scary. I was sometimes at home alone for an entire month while my parents worked gathering forest produce far, far away.
"Here at Bayon Pastry I have everything provided to me (so delighted about that) All I have to do is concentrate on the class. I have learned some English and can put some words into simple sentences, which I couldn't do before. I'm very happy to be learning English, especially that it's free.
"I have to pass my classes then I will be able to get a job but if I don't I will have to go back home. I'm told I'll be able to earn more than $100 a month once I start working! For me it will be the realization of a lifelong dream I never could have possibly imagined would be possible for me, given our abject poverty."
Phach is very grateful for your support. Thank you for believeing in Lotus Outreach's mission!