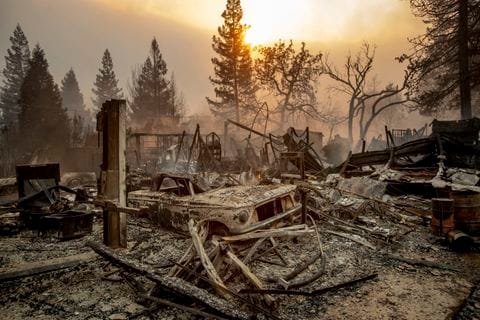 On Nov. 8 of last year, two of the deadliest and most destructive wildfires in California history ignited on same the day.
The Woolsey Fire burned nearly 150 square miles of land in Los Angeles and Ventura counties, destroying 400 homes and another 1200 buildings, causing 295,000 residents to evacuate, and claiming three lives over 13 days.
The Camp Fire, which began in northern California's Butte County, would go on to become the costliest natural disaster in the world in 2018. The blaze scorched 248 square miles, leading to the destruction of more than 18,000 buildings—nearly three-quarters of them homes—and 85 fatalities until it was fully contained on Nov. 25.
The harrowing scenes of wildfires overtaking entire communities in a matter of hours spurred an outpouring of support, including from GlobalGivers like you. Our community came together in the days and weeks after the fires broke out, and more than 3,800 donors raised $1.3 million to support our vetted nonprofit partners assisting families affected by the Woolsey and Camp wildfires. Here's a look at the relief and recovery efforts your donation has supported:
Your generosity supported all of this vital relief work, and we thank you for making the smart choice to donate cash to support community-led relief and recovery efforts after these devastating wildfires. We'll continue to keep you updated in the coming months about the ongoing work of our partners assisting wildfire survivors.
With gratitude,
Will + the GlobalGiving Team