Project Report

| Mar 16, 2017
Thank you very much for your continuous support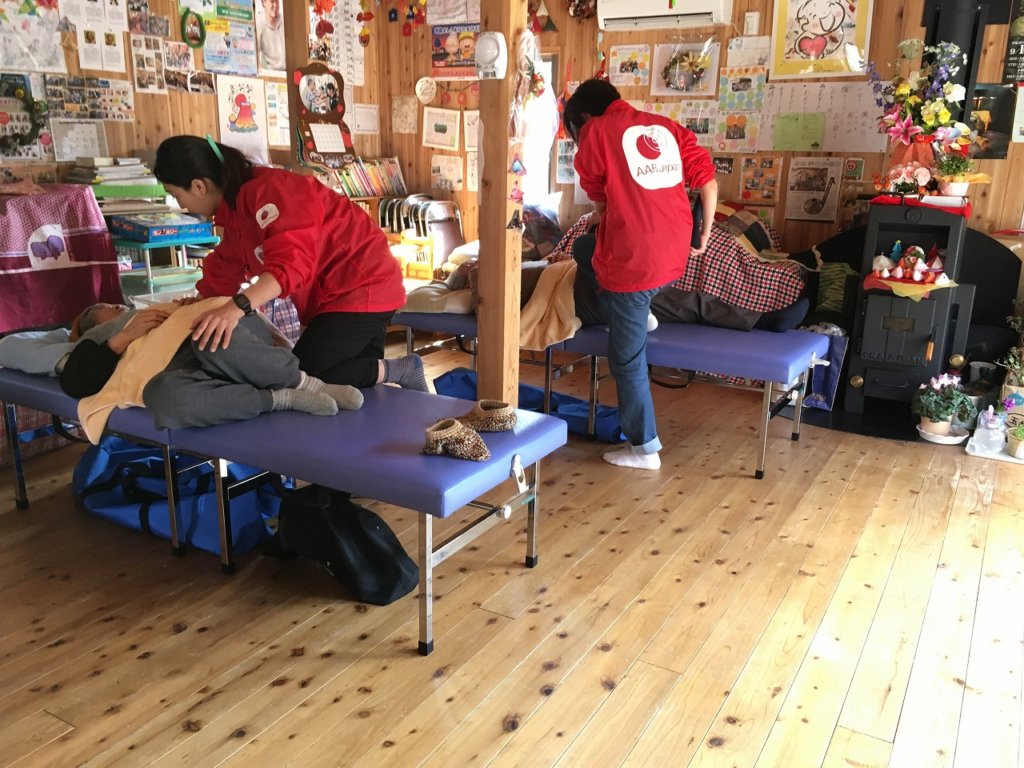 March 11, 2017 marked the 6th anniversary of the Great East Japan Earthquake. About 2,500 individuals are still missing and 126,900 people are displaced, some out of which live in temporary housings across Japan to this day.
This past February, AAR Japan visited temporary housings and other displacement points in Iwate prefecture with physiotherapists and counselors. It is important that we create such opportunities for them to let out anxieties, frustrations, or worries and relax their bodies. In the midst of collective yet tacit realization that Tohoku would mark the 6th anniversary in March, there seemed to be clouds over people's heads who came to receive massage therapies and counseling. A women in her 70's said "A lot of people are moving out and I don't understand why I am left alone on my own. I've lived here for 6 years. My area was affected by the tsunami but my town itself was inland and so the government wouldn't give financial help to rebuild houses that were destroyed or damaged. I had to either borrow money to rebuild my house or apply for a room at the subsidized public housings. I can't make up my mind just yet." Another woman in her 80's longs to see her son who will never return. She said "My son was a tuna fisher. That day, he managed to come back to the port on his boat. But as he tried to turn his key on in a car he was hit and killed by tsunami. His body was later found just like that - with a key in his hand in a car. I dream of him every night when I go to bed."
Despite the significant delay on the initial construction plans, rapid resettlement of the displaced populations from temporary make-shift housings to government-subsidized recovery housings is steadily taking place. In Fukushima prefecture, repatriation of affected populations will commence as the government prepares to lift evacuation orders this year.
Against this backdrop, we will continue to provide physiotherapy and psychosocial counseling at each temporary housing on a regular basis as we have always done. Meanwhile, AAR Japan will deactivate "Building Healthy Community for Recovery" on GlobalGiving to shift our project focus in acknowledgement of significant decrease in the number of residents in temporary housings in Iwate, Miyagi and Fukushima prefectures. Moving forward, we will focus on assessing the needs of a handful of individuals who are still living in temporary housings as well as government subsidized recovery housings. Most of them face complexities in different forms which prevent them from moving out and resettle elsewhere, ranging from physical/mental disabilities, financial problems, absence of relatives and so on. AAR Japan will continue to support these people who remain affected by the disaster.
Through your generous donations over the past 6 years, we have helped support people in Tohoku by organizing message therapy sessions, health check-ups, psychosocial counseling and community events. This was all made possible by your continuous donations through GlobalGiving. We would like to express our most sincere and deepest appreciation for your support.