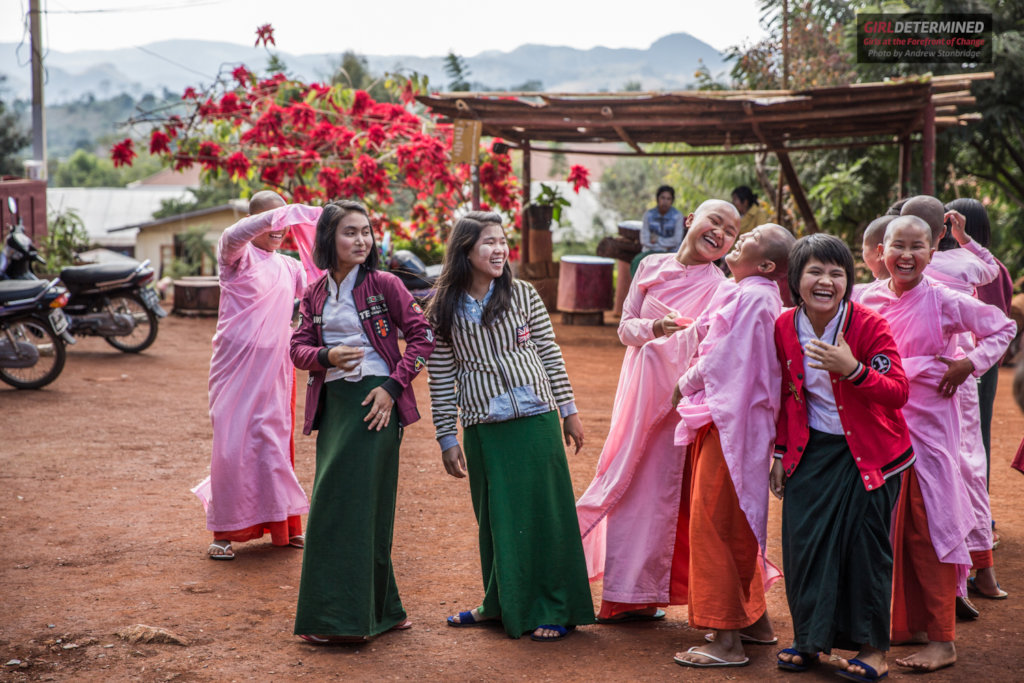 One of our guiding principles is to be certain that our programming hews closely to the real needs of girls in the communities where we work. As such, we check-in with girls regularly to hear their thoughts. Adolescent girls in a large Buddhist Monastic and Community School, the community spotlight of this report, touch on real struggles related to ongoing conflicts and gender-based violence they face daily. The girls offer surprisingly positive outlooks on their futures, unafraid to step up to challenges and bring forth positive changes in their communities.
"In my village, there are no schools which provide free education. To send someone to school, we have to pay for school expenses, rice, and oil. People donate to this monastic school because the head monk is doing a lot of good charity works. Someday, I would also like to open a school where students can attend free of charge.
One time, I noticed a group of students discriminating against another girl because she was Palaung (a different minority ethnic group). When I saw this, I thought about what we had learned in Colorful Girls Circles, and reminded them to think about how that person might feel. After that, I have not seem them discriminate like that anymore. I really want to change these things and I think I can influence my friends and other sisters. I believe we can build a peaceful community if people stop discriminating and looking down on each other." — Nang Mu* aged 14
We have been running Girl Determined's Colorful Girls program at this monastic school nestled in the red hills of Southern Shan State since 2017. After several visits from key members of our staff, the abbot of the monastic school gave us permission and needed collaboration to launch our Circles and Sports program for girls aged 12 to 17 attending the school and from the nearby community. To date, over 700 adolescent girls at this school have directly benefited from our transformational programs.
One of our colleagues recalls an early visit to the school:
"As we were speaking with the abbot, collecting a history of the school and trying to figure out if the school would be a good fit for us —meaning that we would be able to truly have a real impact there— the abbot seemed to change his facial expression. He stopped being so formal and said something along the lines of, 'Look, my sisters, we have so many girls and young women at this school and we support their education as much as we can. But, I am a monk. Our school was started by monks, and we can only pretend to know the real needs of girls. So, please work with us and together we can do it.' The sincerity of the abbot's appeal moved everyone, and after a more detailed conversation about logistics, limits, possibilities and of course, financing, we moved ahead with the program."
The school is a large institution founded in the mid-2000s, initially just to provide both secular and religious education to novice monks. But as armed conflict in the area escalated, the economy shifted and the need for formal education increased, more and more rural families began to send their daughters away from the village and to this school for education in the Myanmar government curriculum. The school is free and many of the students live on the premises.
At this school, almost all the girls in our program identify as members of the ethnic minority group Pa'O, most of whom are farmers and live in the villages around that area. Though the school curriculum uses Burmese language, much of the teaching is conducted in the local Pa'O language. And, in our programs, facilitators and coaches primarily conduct weekly sessions in the Pa'O language as well. As this is most girls' mother tongue, the opportunity to speak freely and clearly express themselves really enhances the benefits for the girls, and in communities with a more mixed demographic make-up, not all participants will have the chance to participate in their most comfortable language.
The support of the school's leadership has been instrumental—especially because the total number of girls is so high. The abbot and the head teacher have come out in full support. In addition to their appeal to collaborate, they immediately began working with us to identify appropriate women in the community to become facilitators and coaches, leading weekly sessions for adolescent girls. And, amazingly —and really rare for us— the school leadership figured out how to work our sessions into the daily school schedule, and to fit in sports sessions before school and on the weekends, so girls can play hard and never have to miss a session.
This project site in the eastern part of the country, is located within the boundaries of the Pa'O Self-administered Zone. The ethnic self-administered zones, of which there are only five in Myanmar, were initiated from Myanmar's 2008 constitution. Pa'O armed groups have been actively fighting against the Burmese military since Burma's independence from Britain in 1942. And while the primary Pa'O ethnic leaders agreed to a ceasefire with the Myanmar military, skirmishes persist and splinter groups have engaged in militia style combat. Not only has the National Ceasefire not fully realized, but localized tensions based on the history of dissent and violence, continue to provoke flare-ups which lead to real threats to villagers lives and livelihoods.
Because of these conditions, in addition to the generalized poverty of many households in the area, many, many girls are now being sent away for education and safety. For us, the sheer number of girls eager to participate is a challenge in our programming at the school. Rather than accepting the initial request of enrolling all 600 girls in the first round, we negotiated and arrived at a staggered start-up schedule in order to alleviate the burden of getting weekly sessions for so many girls at a single project site running at once.
As a further success, bound to the solid relationship with the abbot at this monastic school, we have been invited to run programs for adolescent girls at another nearby monastic school. This August we prepared several community-based women to begin facilitating our programs for around 70 girls in this new site. We anticipate a growing need for support for girls in Shan State over the coming years as armed conflict in the northern parts of the state has escalated in recent weeks, and instability in this area, and other parts of the country, has led to the trafficking of girls and young women. With girls' lives and futures remaining uncertain, their families will continue sending them to the Buddhist monastic schools for security and stability.
Thank you for reading, and for your continued support!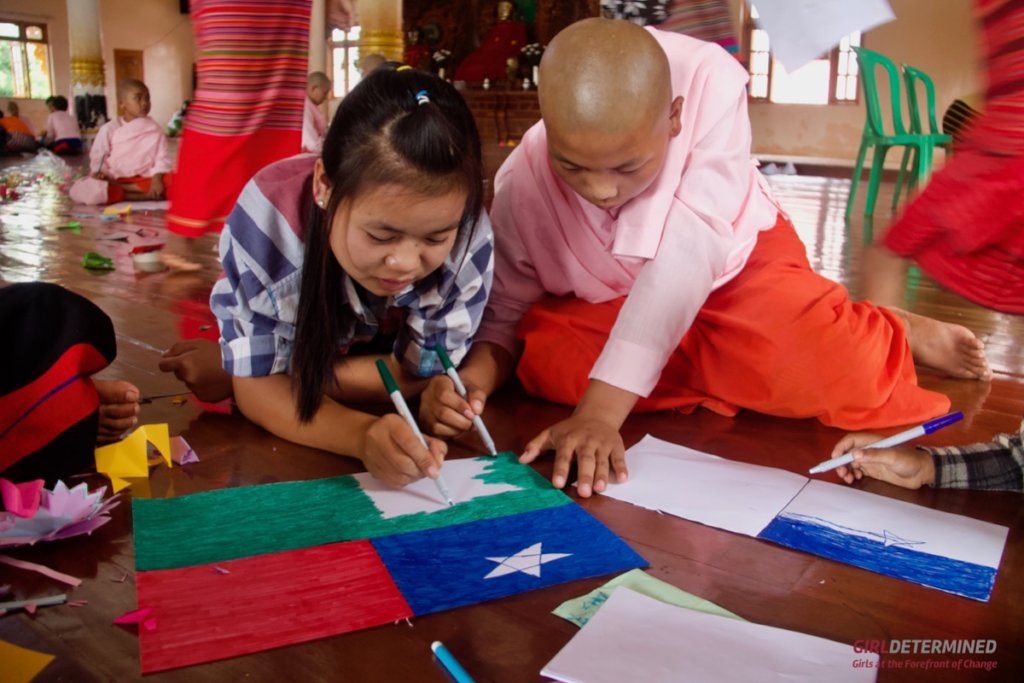 Links: