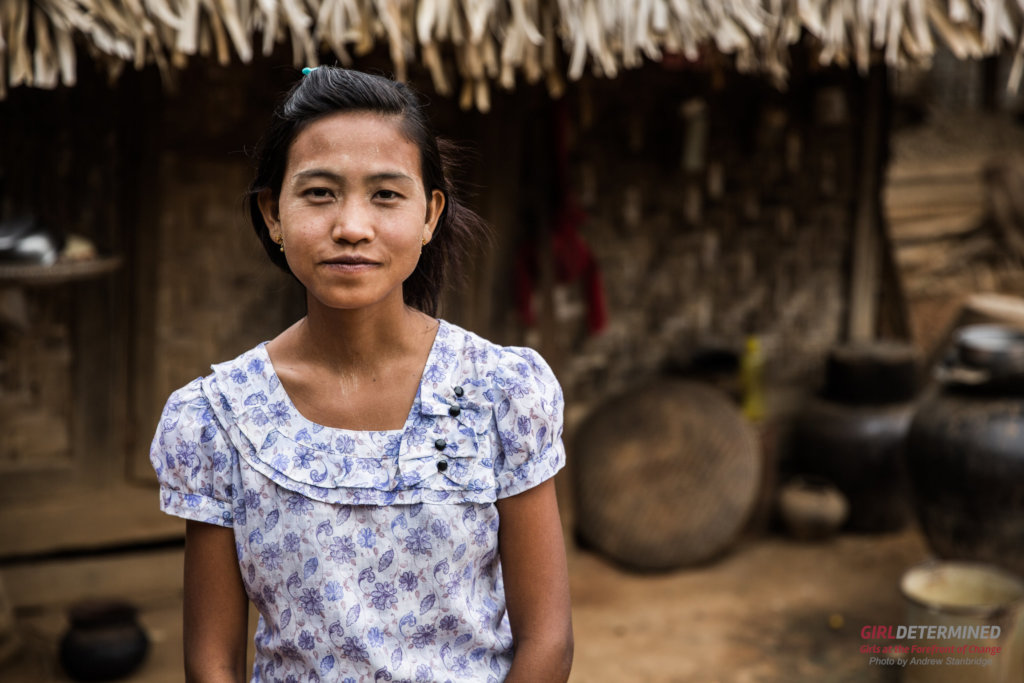 In this project report, we would like to share with you about Thandar, a young woman from Myanmar's central dry zone. Thandar joined our program around five years ago, and she has remained connected to our Colorful Girls network since then. Please read on to learn how her life was impacted by our work.
—————————
My name is Thandar and I am 23 years old. My mother is a farmer and cooks at home. My father passed away. My sister tends to our cows and I weave. During the farming season, I leave my weaving loom often to assist my mother with the farm and animals.
I am not sure exactly when I joined Girl Determined, but I believe it was around 2013. Back then, I never missed a day of the program. I was active in the discussions, and when I did not speak, I listened to others. Also, I got the chance to attend summer camp, where I learned about conflict—how and why it happens around our country, and also, within families.
I recently got married. I am happy now, although I am busier because I help my husband's parents on their farm as well as my own family's farm. I do it willingly and I like working. In Girl Determined's program I learned a lot about communication including the difference between passive, assertive and aggressive. I also built up my sense of self-worth. I think that I use these qualities often in my marriage. I know how to negotiate and discuss issues and make decisions together. I can also stop arguments and de-escalate conflicts between us. I learned this style of communication from the Girl Determined program. I know I can't change everything, but I can change some things little by little.
Girls in our village now have courage to go out and to speak aloud. Before Girl Determined programs, many girls didn't not know what to do with their lives. Teenagers from our village now have opportunities to attend the program, which is very beneficial for them. For sure we need to create more opportunities for girls and young women, but I can see that since Girl Determined started here, we are already able to think differently and take advantage of new opportunities and programs. The Head Monk from the village appreciates the program and he is encouraging— this has also changed the situation for girls.
In the past, parents did not let girls go out alone, but now, parents are more trusting of their daughters and more flexible. The learnings we gained from Girl Determined have made it easier for us to live in our community— we even dare to chit-chat amongst other girls about things that are important to us, both the good and the bad. This includes issues around our own bodies and family planning. At first, our parents did not want us to join the program as the sessions were in the evenings when it was dark outside. However, parents do not say such things about girls joining the programs now. There is still some control over children by their parents, but it is much better than before.
I think most children do not want to live under their parents' shadow. That is one of the reasons why young adults are leaving the weaving business behind for something else. I think they are seeking freedom from their parents' control. At least for me, through what I learned from Girl Determined's programs, I was able to push for and create the freedom that I needed within my family and within my village. This way, I didn't have to run away to be free from their control, which could have been dangerous and limited my development. Instead, my family supports me and I can focus on building up my skills and creativity and put that into my weaving business.
—————————
We are still in the process of compiling and analysing all the girl data collected from the previous year, however we are continuing to see substantial positive changes. After a year of the Girl Determined program, one sampling of girls surveyed showed an average of 25% improvement in girls' leadership skills and attitude toward girls in leadership roles. Girls have a different understanding of themselves than when they started our programs— moreover, they are also changing other people's perception of girls.
Your support allows girls and young women, like Thandar, to gain the skills and confidence needed to take control of their own lives and to lead other girls to do the same. We are so pleased to continue this important work for adolescent girls and young women across Myanmar, as we start up a new cycle this year with over 3,000 girls.
Thank you for reading!