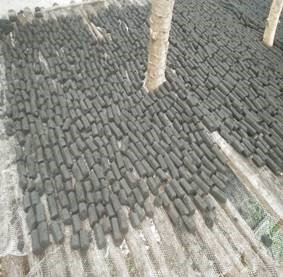 This is the second report covering the period January – May 2021. Below are the project activities and plans for the way forward.
a) Training
During the period, Kulika trained 52 girls and women in briquette making and use. Specifically, they learnt how to carbonate the materials, crushing, mixing, and extruding briquettes. The three fabricated machines continued to be used for training the women and girls as well as making briquettes for sale. The women were skilled in making hand presses for making own briquettes. To date the project has skilled 74 women cumulatively. Three additional sites have been identified within the community where more women will be trained.
b) Current production
The targeted production at the Kulika centre per quarter is 6,000 kgs of dry briquettes. During this period, we produced 2,988 Kilograms of briquettes. We have planned to step up production by overcoming challenges met during the previous period and achieve the targeted number of kilograms. The quality of the briquettes has kept improving in that more clients are now regular customers.
c) Sensitizing women to produce maize
A total of 150 women from 6 farmer groups were sensitized to grow maize. To date, 8 acres have been planted. The women will sell maize and some of the cobs to Kulika Centre at a competitive market price. Through this arrangement, Kulika briquette unit will obtain 400 bags of maize cobs between July and August from which the briquettes will be made and women will be engaged to sell on a commission basis. The women will also use the maize cobs to make own briquettes for domestic fuel use.
d) Drying facility
The drying facility continued to swiftly dry briquettes. Making more drying racks within the drying zone is ongoing. Two chambers will be added to the current one by end of May, with each having a capacity of drying 1,200 Kilograms of stick briquettes in a row.
e) Way forward
Packaging: We hope to introduce a packing system for dry briquettes in 10 Kilogram pack, 20-kilogram pack, and 50-kilogram pack. This is intended to improve and ease marketing for the women.
Training program: we plan to continue conducting training for 126 women with emphasis on making, using and marketing of the briquettes.
Sourcing of raw materials: we plan to continue engaging the women to grow maize in both seasons of the year to provide adequate materials for the briquette unit and their own use.
Prepared by Kulika Uganda