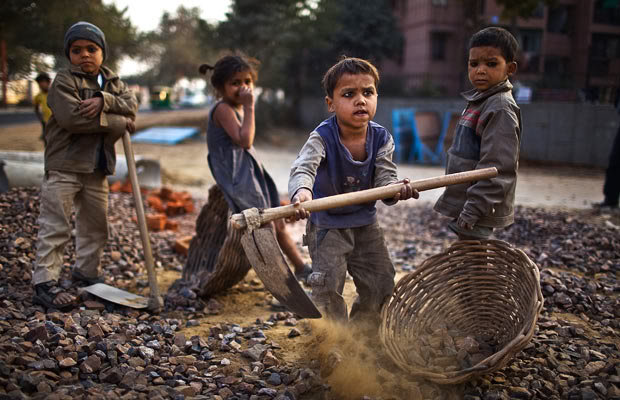 Thanksgiving is a time to enjoy family and to reflect on all that we have to be grateful for. Like many citizens of the first world, you probably have much for which to be thankful. You likely have a family that loves you more than you can imagine, a roof over your head, an education, food to eat, and perhaps most importantly, the freedom to enjoy all of these things.
Having freedom is not something we often actively think about. It's a default; something we frequently take for granted. For most of us, it's hard to imagine a life in which we can't express our opinions openly or choose our elected officials. Harder still is imagining a life in which we are forced daily to work in subhuman conditions without pay, or to submit to the whims of another individual.
As hard as it is to imagine, that's the reality for an estimated 12.3 million people around the world this Thanksgiving. It has also been a reality for Lucia, a 16 year old girl that we've gotten to know at the Institute for Trafficked, Exploited, and Missing Persons. Lucia's life wasn't much different from most girls her age. She liked school and enjoyed spending time with her friends. She didn't have much, but she was determined to succeed and dreamed of becoming a doctor one day. Yet as she was walking home from school one day, her world was turned upside down. A car pulled alongside her and several armed men got out. They pointed their guns at her and told her to get in. As she screamed, they grabbed her and pulled her into the vehicle. Lucia endured weeks of unimaginable abuse at the hands of her captors, a powerful street gang in Guatemala City. She was only let go when the gang leader, who by that time had captured other sex slaves, decided he was through with her.
Thankfully, at ITEMP Lucia is learning to dream again. She has been able to return to school in a safer area. She's been overcoming her psychological trauma with our counselor, and our legal team is seeking justice for her. As we enjoy the blessings that our freedom affords us this Thanksgiving, we must remember Lucia's story. And we must also remember those who are still suffering silently, desperately hoping that someone like you will not forget them, that you will fight for their freedom. These people are the victims of child prostitution and sexual exploitation, forced labor, and domestic servitude. If these people have a family, it's one whose company they're unable to enjoy. If they've a roof over their heads, it's one that does little to add to their safety. If they have food, it's food they'll consume in isolation, without the company of friends and the blessings of a light heart.
Knowing that these people live out their existence in these conditions is just one more reason to be grateful for our own freedom. But the gratitude that we feel for being free should spur us to action. We may not be able to free these people ourselves, but there are things we all can do to help them.
As you give thanks for all the blessings in your life, here are several ways to make a difference this Thanksgiving:
1. Understand the problem of human trafficking. By learning about the dynamics of contemporary slavery, you are becoming part of the solution.
2. Understand where the products you buy come from. Check out the Department of Labor's List of Goods Produced by Child Labor or Forced Labor. Encourage companies to investigate and eliminate forced labor from their supply chains and to be transparent with production information.
3. Research human trafficking in your community and write a letter to your local newspaper to raise awareness about the problem.
4. Write to or meet with your local, state, and federal representatives to let them know that you're concerned about human trafficking in your community. Ask about the steps they're taking to address the problem in your area.
5. Consider volunteering with an anti-trafficking organization. Help out with awareness raising or victim outreach.
6. Give. The Institute for Trafficked, Exploited, and Missing Persons (ITEMP) works to prevent human trafficking by raising global social awareness about the problem. We also work to rescue and rehabilitate victims of human trafficking and exploitation. We provide victims with safe places to stay, medical and psychological assistance, social and legal aid, and perhaps most importantly, education.
We need your support now more than ever. Please donate to help those without freedom this Thanksgiving.