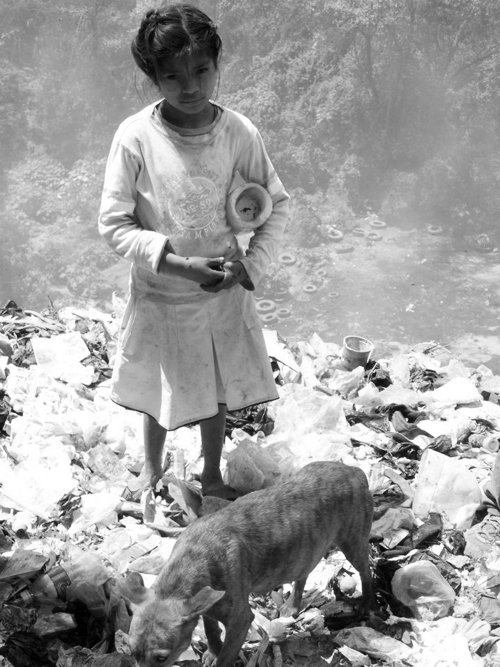 She sat on the rotting garbage as if she were a queen seated regally on top of a gold-gilded throne. She knew this place, she said, and she has had dreams here.
Maria Paula, the young queen of this smoky domain, is all of 10 years old. Her voice is deep from constantly breathing the smoke and toxic fumes that rise from the refuse. Her hair is tied back with a pink band, yet filled with lice. She's unbelievably beautiful, yet dirty and covered in something sooty and oily.
She wants to go back to school, she says. Then she wants to get a job. She says that God made the situation as it is, and because of it she now is the only one in the family who can care for her younger brother and sister, as well as her aging grandparents.
She's skinny and small for her age. She's covered in bug bites, bruises, and scrapes. Someone hit her on the side of the face, but she won't tell me who or what happened.
She's lived and worked in this garbage dump outside El Tejar, Guatemala for most of her short life. When she was too young to remember, her father died. Her mother quickly found a new partner, but this man didn't like the small children who looked like their father. The new boyfriend beat the children for no reason, Paula said, and he always hit her the most.
One day, Paula's grandmother came to visit. She saw the bruises on the children and knew what was happening. She brought all three of her grandchildren back to live in her tiny shack that day.
The siblings were happy living with their grandma and grandpa. They were loved and cared for. Although they never had much of anything, they had enough to get by, and together the children discovered happiness.
The grandparents even let Paula, her brother Carlos, and her little sister Karla go to school. That lasted for a couple of years, Paula says. She smiles while remembering the classrooms, lunches, teachers, and homework.
Then, their grandpa became too weak to work. There wasn't enough money for him to visit a doctor, so he just got worse and worse. Eventually he could barely lift his arms high enough to feed himself.
Their grandma went to work in the only place she had ever had a job…the garbage dump. Years ago, she had searched for scrap tin and aluminum cans there, but when she married, she said she would never go back. Now, though, her husband and grandchildren were starving.
The grandmother pulled Paula and her siblings out of school. With sadness in her heart, she taught them how to sift through the rotting food, old diapers, and other waste to find recyclable items.
Together, this family earns about $55 a month collecting cans and plastic. They spend all of it on food. The children go to bed hungry every night.
From her garbage throne, Paula tells us about the bad days; the moments when they can't find enough recyclables to buy even a few tortillas and beans. She explains how she can tell if the rotting food she sifts through is OK to eat.
We watch her grandmother in the distance, slowly bending over as she sorts through another of the endless piles of garbage. Paula talks about how worried she is about her grandparents' failing health.
What will we do if my grandparents die? Paula asks, more to herself than to us. Just a child, she's already suspicious outsiders who offer help and make promises. She doesn't believe our offer to take care of her, Carlos, Karla, and her grandparents.
So, we leave the children at the dump and promise something small…to return the next day with new clothes and shoes. The following morning, we find them waiting by the side of the dump, trying to hide their excitement. Paula stays distant, and focuses too much interest on her work.
Next, we promise to bring them some food. Little by little, our promises get bigger.
Finally, after several visits, we make them a huge offer. Let us help your family, we say. Paula and her siblings can go back to school, where they belong. Her grandma can stop digging through the trash piles. They can all visit our clinic for free.
Paula is quite for a very long time. No one in the family knows what to say or do. We tell them more about ITEMP.
Then, very thoughtfully, Paula asks if she can start school in first grade. She won't do it if she has to repeat kindergarten, she says. Kindergarten was too easy. We say yes. Her face brightens into a big, beaming smile.
Watching Paula, Carlos, and Karla play during recess last week, we saw three happy kids right where they should be…learning and growing, taken care of, and loved.
Links: