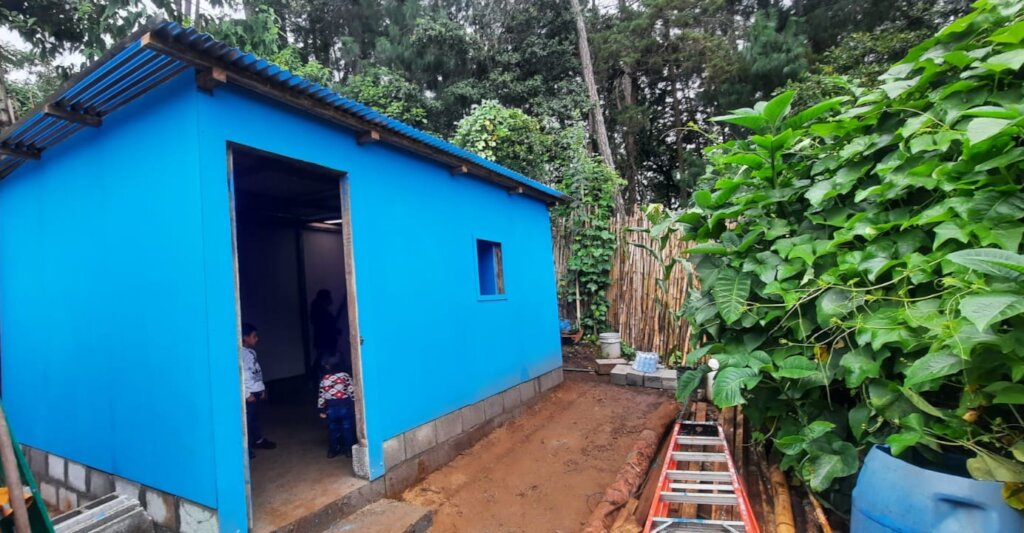 At Asociación Nuestros Ahijados and The GOD'S CHILD Project we work to break the chains of slavery through long-term solutions to the causes. By helping people in vulnerable situations we can ensure that they do not need to make desperate attempts which could lead the them becoming victims of slavery or trafficking in the future.
One of our approaches is through the building of secure housing for families in Guatemala. This year we have built 26 new houses for families in need, giving them somewhere that they can call a home.
One such family that received a house from us this year was the Pérez* family. This young family of five were living in a single room made of canes with a dirt floor in Aldea Chitaburuy, Parramos. The house was separated by a wardrobe to create two small living spaces. The house is isolated, and the family have to cross a river just to get to the nearest shop to buy food.
The children's mother cooked on the patio outside, next to the toilet and shower. The family lacked a formal kitchen and did not always have water and electricity in the house. The children's father works in agriculture on a small farm, but he earns too little to buy the materials needed to build a house for his growing family. Other, better-paid work is too difficult to come by. The parents want to give their children better opportunities in life, starting with improved living conditions, especially now the rainy season has arrived and their current house is getting very cold at night.
Thankfully, Asociación Nuestros Ahijados was able to provide just that for the family. Our staff members and volunteers, including our own Founder and Executive Director Patrick Atkinson and our National Director, Miguel Angel Alvarez, worked for two long days to build a secure and dignified home for the family. After three days of extremely hard work, the family was delighted to receive a new home and kitchen. Not only that, but the family also received a new stove and water filter from us.
The family is now no longer thinking of ways to escape their current life or putting themselves or their children at risk. They are overjoyed at their new house and extremely grateful to the Project for the support.
The GOD'S CHILD Project and ITEMP have been working for 30 years to break the chains of poverty and slavery through education, housing and healthcare as well as direct intervention. Please click the link below to donate to support us in our ongoing mission.