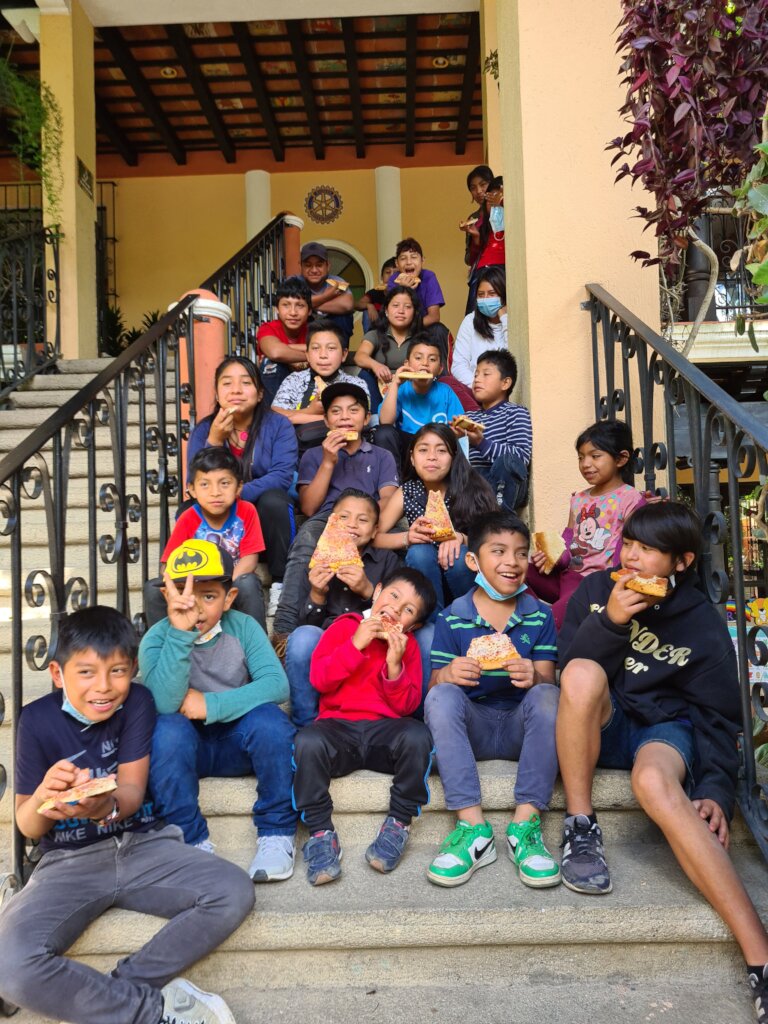 In November 2021, we collaborated with Guatemala's Ministerio de Trabajo to form a new programme called CAIPETI (Centro de Atención Integral en Prevención y Erradicación del Trabajo Infantil). The goal of this programme is to begin to eradicate child labour in Antigua Guatemala through education.
The 25 children, who our social workers had identified as vulnerable due to working in the streets of Antigua, come to the Project every Friday morning to receive classes from our teachers. These are designed to empower the children as well as give them useful skills that they will be able to use in the future. Many of the children did not previously go to school when they were younger, and need to catch up the learning that they previously missed.
After receiving their classes, the children also pass through our weekly vegetable distribution and receive bags of vegetables, fruit and pizza. They can take this home to their families, meaning that they don't have to work as much to pay for the family's food.
One of the children in the programme is 14-year-old John. He lives with his parents and seven siblings in San Anton, on the outskirts of Antigua. John's parents were just 13 and 12 years old when they had their first child, John's older brother, and 16 and 15 when they had John. The family is from Momostenango, around 3 and a half hours away from Antigua, and moved to Antigua to try and find a better life. They are just one of many families who take part in internal migration in Guatemala.
The family has just one bed for all 10 of them to share, and so John and many of his siblings sleep on the floor. Their house is rented and consists of two rooms made of cement blocks and sheet metal, although the family does not have enough possessions to make use of both rooms. The landlord only allows the family to have electricity for four hours a day. This week, in addition to supporting John and his brother Presley through CAIPETI, we are giving the family a new bed and some solar lamps so that they can live more comfortably.
There are positives for John and his family, however. As a result of joining CAIPETI, John enrolled in school for 2022 and is in 4th grade. Four of his younger siblings are also studying this year, with the rest not yet old enough to start school. John and his brother have gained a newfound love for studying, and have now got dreams for the future where they can better support their family. We hope to continue to be a part of that.
The GOD'S CHILD Project and ITEMP have been working for over 30 years to break the chains of poverty and slavery through education, housing and healthcare as well as direct intervention. Please click the link below to donate to support us in our ongoing mission.