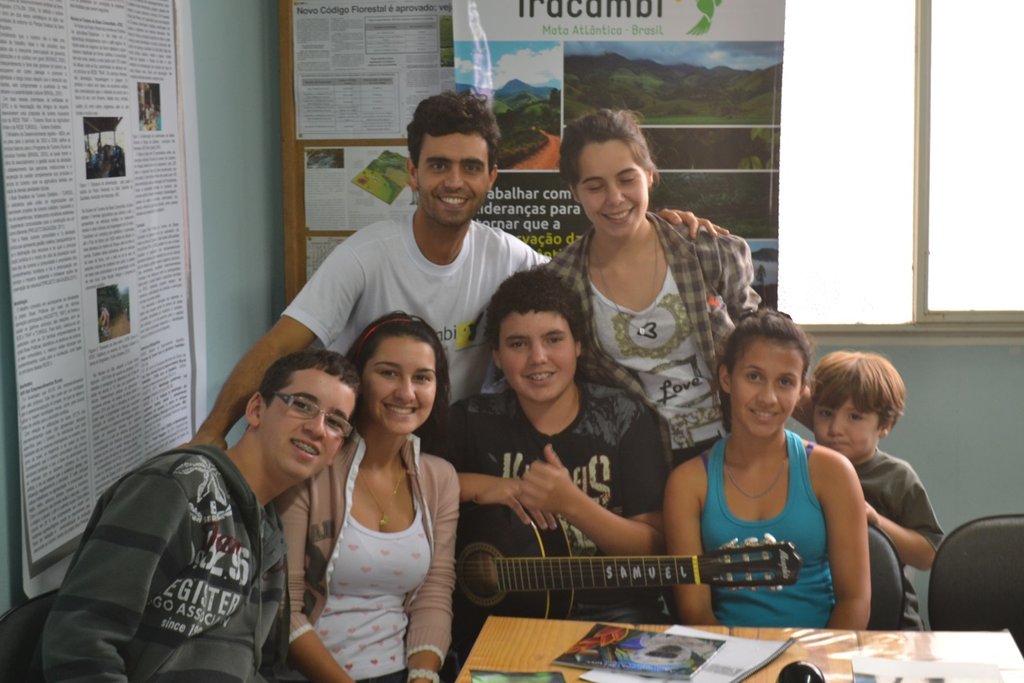 Lights-camera-action! As we get our high school junior scientists situated around the table, making some minor adjustments in order to have them all fit on the screen, we think that our Portland Oregon friends are doing the same. When we initiated our video conference call though, we were surprised to see that they were able to fit in a large number of people. In fact, there were about 50 kids sitting in an auditorium waving to us saying, "Hello!" with an occasional, "Oi!"
We had decided to start off our conference by giving a performance that would show off a little about each of our cultures. An Iracambi Junior Scientist picked up his guitar and played a couple popular Brazilian songs with a little vocal help from the other Junior Scientists, and the Portland kids retaliated with a dance to the world pop hit song, Gangnam Style.
With the ice broken between us, it was time to get to business. The Iracambi Junior Scientists showed pictures taken in the surrounding Atlantic Rainforest regions that are well known to them, and told the Portland kids about life in the rainforest. They also talked about the projects they've been working in, such as the water monitoring and working in the forest nursery. After our presentation, it was the Portlanders' turn to present their project. They had taken a trip to New Port to learn about the ocean. The kids came up one by one and talked about many interesting things such as the role of water in terms of erosion and the water cycle that they learned during their trip. By the end of both presentations, kids on both sides of the screens had learned quite a lot about a new ecosystem. With many goodbyes our video conference came to an end, but will stick with our kids for a long time to come.
Links: