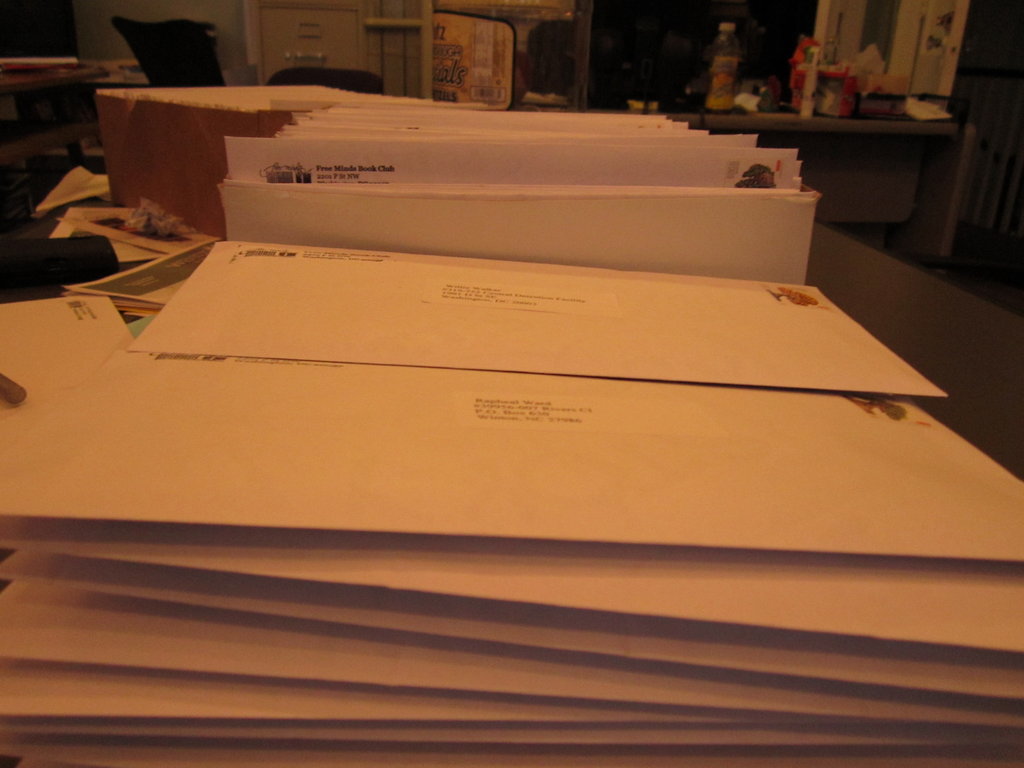 Dear Friends of Free Minds,
Thanks to your support, "Books Across the Miles," or "BAM!" continues to be a big hit! Our "virtual" book club allows us to share books with 125 of our Free Minds members in Continuing Support, young men from DC now incarcerated in federal prisons all over the country. Because they are far from home, their loved ones are rarely able to visit them and the long-distance book club is one of their only opportunities to really connect to each other and to the outside world. Through "Books Across the Miles," these young men can read the books together—even though they're far apart—and participate in discussions through our newsletter Free Minds Connect. The newsletter, along with BAM! helps them feel connected and shows them that the outside community has not forgotten about them, a crucial element in promoting positive transformation.
In our last report, we told you about reading "Ruined," by Lynn Nottage. After that, we read "The Conversation" by Hill Harper, a powerful book about relationships between men and women. It got an appreciative response from BAM! participants, including one who wrote from Federal Prison in California to say:"I'm reading The Conversation, and it's just perfect for me!"
One of the goals of Free Minds Book Club & Writing Workshop is for members to be deeply involved with all levels of the organization, and so we are proud that the next selection was chosen a Free Minds member himself. Michael, now home in the community, explains his process:
"There was a time when I was on the other side of the fence receiving books. The BAM! book that first caught my attention was named "Ruined." It was my first time reading a play so it was very interesting. Reading it took me back to that place where you feel like you're going on an adventure . That's what made me fall in love with reading in the first place because I was physically incarcerated, but my mind was free as an eagle soaring above. It inspired me so much I wrote a poem called "Ruined," so I truly understand the power books have. That leads me to now being on the outside getting the opportunity to choose the latest BAM! book which is "Rich Dad Poor Dad." I chose that book because money is something that plays a huge factor in most of our lives. I read that book while I was incarcerated and it totally gave ma new way of dealing with the "Almighty Dollar." I now know the difference between my needs and wants, which most of the time plays a big role in how we value and spend money. I figure why not pass some valuable information to all the Free Minds Members? If a book can give me a better understanding of something I need to maintain and manage, why not send: Books Across Miles?"
Micheal's choice of valuable information was confirmed by enthusiastic feedback from participants still incarcerated, including one member who wrote, "I love that book. All I want to read about is how to make money and make money work for you. It's very informative. It gives wisdom and that's all I want to do is learn so I can get my brain fat. I need answers. I must be successful, it's a fire burning in me."
After the success of "Rich Dad Poor Dad," we are now getting ready to send out our next BAM! title: "Enrique's Journey" by Sonia Nazario. "Enrique's Journey" is the true story of a 16-year-old Honduran boy whose mother left him and his little sister for the United States when they were small children. Her husband had left her, and she felt the United States was her only chance of being able to earn enough money to give her children the life she wanted them to have. Unfortunately, what she thought would only take a few years stretched into many more. Enrique finally sets out on a dangerous journey to the United States to find his mother. We chose this book because some Free Minds members have actually made this journey and have unbelievable tales to tell. By reading "Enrique's Journey," we will be able to better understand and appreciate what some people—including some of our friends—have risked to come to this country. One of the most important things is community—and by taking this journey together we know we can strengthen our own community at Free Minds!
We also continue to publish our members' writing to our writing blog. Check it out, find a poem you like, and write some feedback! The new poets love hearing from you. It builds their self confidence and lets them know that their voices are being heard. We print out and mail the comments and feedback from the blog to the poets in federal prisons. You've heard from them, now let them hear from you!
Thanks again for your belief in the power of reading and writing! We are so grateful for your support.
P.S. To stay current with the work of Free Minds Book Club & Writing Workshop, don't forget to like us on facebook!
Links: