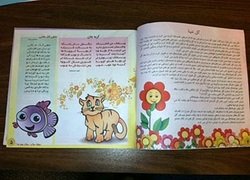 AIL is committed to improving literacy rates in Afghanistan and literacy classes are offered at AIL Learning Centers around the country. Books are not as commonplace in the average Afghan household so supplying varied reading material is greatly beneficial to those who are learning. AIL supports the Citadel Library in Herat which regularly receives book donations each month. Hundreds of students and members of the public now use this library for research and pleasure.
In 2012, AIL published two issues (3,000 copies total) of its magazine Nida e Talem (Voice of Education) which we estimate reaches about 60,000 people annually with copies being handed around to many people. AIL also published 4 issues (2,000 copies total) of the children's magazine Salam, Salam Bachaha. Two issues (1000 copies) of an alphabet book were also printed as well as 500 copies of a Coloring book and 500 copies of a Numbers book both for children.
AIL continues to support the publishing of reading books by local Afghan authors including a book about Herat historic places with a reprint in March of this book of 3000 copies.
In 2013, AIL will publish a book of calligraphy and print 3,000 copies. Calligraphy is one of the traditional Afghan arts being taught in AIL classes at the Citadel complex in Herat. Reviving Afghan arts and culture helps people reconnect with their history and their identity as a strong, independent, talented and capable people.