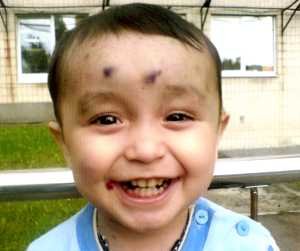 Dear Friend,
we have recently transferred $2,000 to help Tanya Suchkova, a young Ewing's sarcoma sufferer, pay for the bone marrow transplant. Thanks to your help, she underwent transplantation on March 2! Tanya is now recovering and feeling well. Your contribution helped Tanya get access to a lifesaving procedure she would not be able to afford otherwise. Thank you!
However, there are others who urgently need bone marrow transplants but are unable to pay for the search for the donor. A two year old Farkhod from Tajikistan has a genetic disorder that only bone marrow transplantation can fix.
On March 16, GlobalGiving.org is matching at 30% all online donations up to $1,000 per donor per project! There is $75,000 available in matching funds on March 16. Once these matching funds are used, no more matching funds will be applied. In addition to the 30% match, GlobalGiving is offering a $1,000 bonus to the project that raises the most funds that day and a $1,000 bonus to the project that receives donations from the most individual donors!
Please donate to our project and support the patients awaiting bone marrow transplants! Your help is urgently needed and much appreciated!
~~~~~~~~~~~~~~~~~~~~~~~~~~~
Дорогие друзья,
недавно мы перечислили 2000 долларов, чтобы помочь оплатить поиск донора костного мозга для Тани Сучковой, болеющей саркомой Юинга. Благодаря нашей помощи, Таня прошла пересадку в ночь со 2 на 3 марта. Теперь Таня восстанавливается и чувствует себя хорошо. Ваша помощь помогла Тане получить доступ к процедуре, спасшей ее жизнь. Спасибо огромное!
Но на очереди еще многие пациенты, чьи шансы на жизнь зависят от того, насколько быстро начнется поиск донора. Так ждет нашей помощи двухлетний Фарход из Таджикистана. У него редкое генетическое заболевание. Если не спасти его сейчас, через несколько месяцев может быть уже поздно...
16 марта (с 8 утра 16 марта до 8 утра 17 марта по московскому времени) появится замечательная возможность увеличить эффект Ваших пожертвований: к любому пожертвованию (от 1 до 1000 долларов США) сайт GlobalGiving.Org добавит 30%!
Это значит, что Ваше пожертвование в 10 долларов превратится в 13, а пожертвование в 100 долларов - в 130, и поиск доноров для нуждающихся пациентов начнется раньше, что увеличит их шансы на успех!
Кроме того, те проекты, которые соберут наибольшую сумму или в которых будет участвовать наибольшее количество жертвователей, получат дополнительные призовые суммы.
На все проекты спонсоры выделяют 75 тысяч долларов в качестве бонуса. Как только деньги закончатся, начисление бонусов прекратится. Если Вы готовы поддержать наших пациентов, пожалуйста, сделайте пожертвование именно 16 марта, причем как можно раньше! Спасибо!
Links: