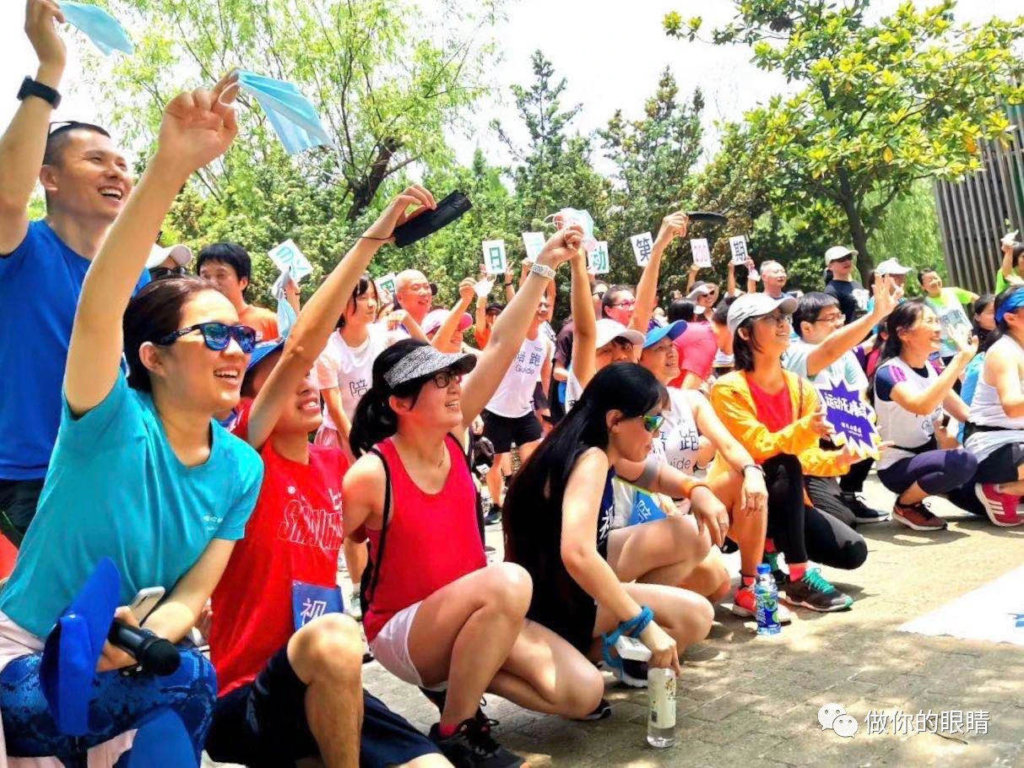 Brief
InMay 2020, as beYoureyeS restarted its regular weekend activities, which haspreviously been halted due to COVID19 outbreak, it reached the 200th round markof regular weekend activities. Moreover, both online and offline activitiesgradually took the pace of recovery from the stagnation brought by COVID 19.
InMay, beYoureyeS has carried out 4 regular weekend activities, 1 CSR activity, 4Tik-Tok fitness livestreaming events; received 2 honorable awards; and continuedcarrying out Online Yoga Reading Sessions.
The Biggest News!
200We reached the 200th beYoureyeS regularweekend activity
Oh! Dear Lanjingling
Oh! Dear Lanjingling
They run, hand in hand —— how happy
They attach, heart to heart —— how joyful
This is created by Yi Er as a tribute to the 200thregular weekend activity of beYoureyeS. This modified version of 'the Song ofLanjingling' records Lanjingling's joyful memories of the past 5 years through afew subtle flashes of ink.
The celebratory activity began at 9 o'clock, May24. Chenhui organized Tik-Tok livestreaming of the activity, interviewing numerousaudiences about their feelings.
That day, Lanjingling ran an accumulated distanceof 400km. Go Lanjingling! Go sports accessibility!
REGULAR WEEKEND ACTIVITIES
Following considerable successes in epidemicprevention and control, Lanjingling carried out 3 test rounds of regularweekend activities in Puxi, Pudong and Binjiang on May 10. All participants tookan active part in warmly welcoming the return of offline activities whilst strictlyupholding social distancing guidelines.
The 199th, 200th and 201stregular weekend activities were carried out on May 17, May 24, and May 31, respectively in CenturyPark and Minhang Cultural park. Post-recovery regular weekend activities will takeplace in Puxi and Pudong simultaneously.
Following the recovery, regular weekend activitieswere always accompanied by newcoming members. In the 201st regularweekend activity, 4 visually impaired runners joined the Lanjingling family. Atthis new starting point, we aim for new members to enjoy the sport with us, feelingeach other's grin and smiles.
CSRCorporate Social ResponsibilityActivities
CSR Shanghai Disney Resort CSR Activity
On May 15, 6 members from Lanjingling got invitedto Shanghai Disney Resort, where they celebrated the coming of the 30thNational Disability Day, joining the FANTASY Special Event for disabilityinclusion and sports accessibility with more than 30 Disney cast members.
Disney cast members splitted into two groups tolearn how to assist visually impaired people and how to be the guide runner forvisually impaired runners.
There were also six participants with hearingimpairments, for whom Disney invited sign language teachers to help with visualtranslation of words. They too felt the joy of equality, inclusion and sports. Afterwards,they gave a thumbs-up compliment to the organizers to show their gratitude.
Special Events
Tik-Tok Fitness Livestreaming
In order to let some members of Lanjingling whostay at home have more sports choices, beYoureyeS invited well-known fitnesstrainer Aiden to design well-rounded fitness lessons for Lanjingling members.
In the afternoon of every weekend from May 10 toMay 31, Aiden and her assistant coaches brought 4 livestream fitness lessons,during which Lanjingling acquired the ability of Cat-stretching, correctposture standing, plank, standard push-ups.
This series of postures are specially designed byCoach Aiden with her knowledge and experience in fitness, focusing on thedevelopment of muscle tissues on the body. Her detailed instructive approach ofteaching was based on her knowledge of the personal characteristics and habits ofthe participant. Coach Aiden also classified each posture in terms of their difficultylevels, allowing relatively weak participants to improve and develop in a stepwisemanner.
Hopefully Lanjingling will further pursue specialistfitness trainings outside of running, to raise cardiovascular capacity, adjust bodilymanners, and be healthy and joyful.
Yoga Reading Sessions
In the beginning of February, beYoureyeS online Yoga Reading Sessions were launched. Yoga instructor Karen decided to share the writtenYoga masterpiece Yoga-Stra on Himalayas —— an online audiobook platform,after considering the benefits of such audiobooks and the physical constraintsunder coronavirus lockdown.
Since February 24, when Karen uploaded the firstaudio file, she renews the audio files three times a week, maintaining thepeaceful and warm harbor in the hearts of Lanjingling.
Apart from doing sports, Lanjingling often settledtheir minds to listen to Karen's peaceful and mesmerizing audio recording ofYoga-Stra, giving them internal richness and power.
Awords
In the list of 2018-2019 Annual Commendation ofShanghai Voluntary Service Units:
Shanghai Lanjingling Sporting Voluntary ServiceCenter 'beYoureyeS' voluntary service was rewarded 'Shanghai Voluntary Service Organizationof Excellence'
Ken Lu was rewarded 'Shanghai OutstandingVolunteer'
Thanks for your reading. We will see you next month.