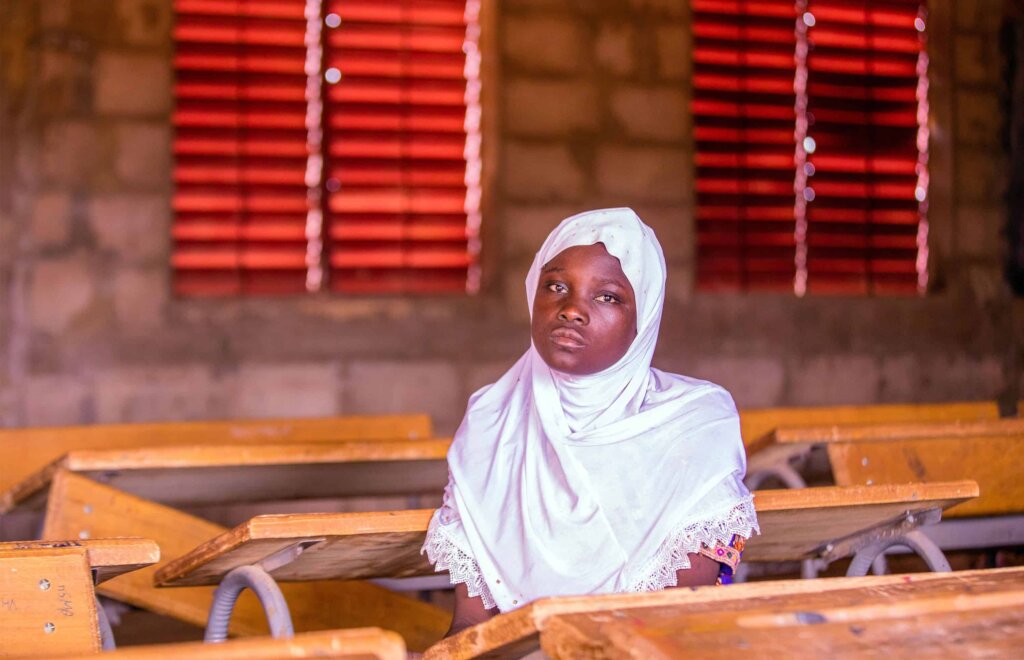 This is Zalissa
Growing up in Burkina Faso often means knowing about violence and terrorism from a young age. When attacks started happening in Zalissa's community, life changed for girls like her. And one day, without knowing it, she left her classroom for the last time. Going to school simply wasn't safe anymore, and just like that, the 13-year-old was no longer a student.
Then in 2020, things got worse. Zalissa and her family were forced to flee their home and start over in an unfamiliar place. She became an internally displaced person — a label given to over one million people (and 600,000 children) in Burkina Faso.
Daporé: a teacher with a vision
The school in Zalissa's new community welcomed displaced students like her. But it was challenging. The school was already in disrepair, and the classrooms weren't big enough to fit nearly 130 new students. Classes became overcrowded, with students having to share seats. Books and school supplies ran out.
Teaching in classrooms like this isn't easy, but dedicated teachers like Daporé are showing up every day, doing their best. He knows how important girls' education is, and how issues like displacement, child marriage and early pregnancy can keep them out of school.
"When girls are in school it has a positive effect on their families and society," he says. "We need to ensure girls have access to support and scholarships so they can stay in school."
Cécile is bringing change
Cécile manages Plan International's education and protection projects in Burkina Faso. One thing she's working on this year: revamping 16 schools across the Centre-Nord region (including Zalissa's). That means building new classrooms and learning spaces to reduce class size, providing school supplies and focusing on how to best reintegrate displaced students.
She's passionate about making sure girls are in school. But she knows what they're up against.
"Girls' education is often sacrificed when families are in difficulty," explains Cécile. "Many girls end up in situations of child labor or marriage. It can be hard to find the motivation and courage to return to school."
A new chapter for Zalissa and her classmates
The new classrooms at Zalissa's school made all the difference. The teachers like Daporé can accommodate more students and provide better quality education.
That means a lot to displaced students and girls like Zalissa. They've been through enough hardship, and deserve a safe and inclusive place to learn.
Zalissa's favorite subject is history. She says she likes it because "it tells the story".
She might not realize it, but Zalissa is making history as part of Burkina Faso's story herself. Because every girl like Zalissa that stays in the classroom sends the same message: Girls deserve to determine their own futures.