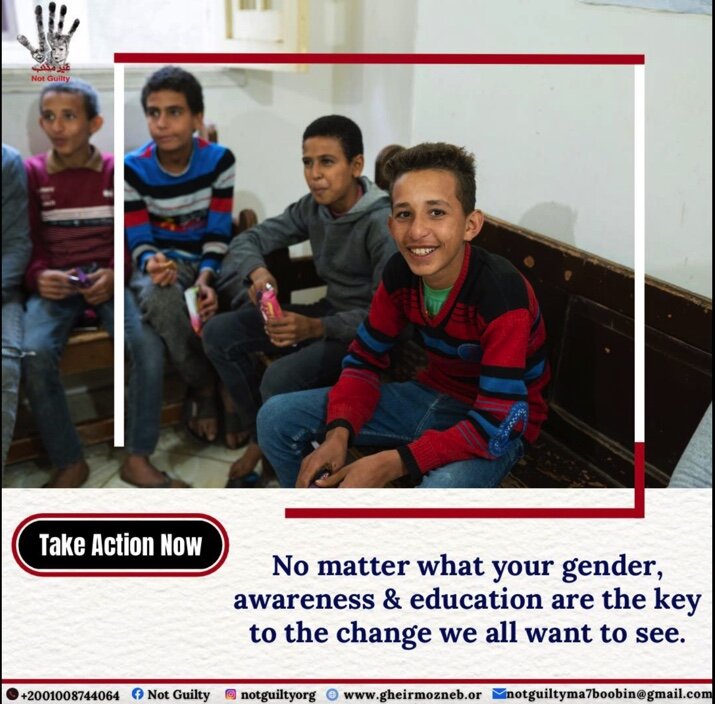 Her older brother abused seven-year-old Noor for years. When she tried to tell her parents, they spanked her and said that she was a liar.
She had to endure her brother's abuse in silence for two years.
She reverted to wetting her bed, which caused even more punishment.
Only when the Not Guilty team went to train the kids, Noor ventured again to open up about the abuse.
Children in villages are more prone to get sexually abused because of the close proximity in which they all live. Big-sized families commonly live in one room, with the children sleeping under their parent's bed. As kids get older, they still have no privacy making sexual abuse that might start as curiosity a silent issue.
Not Guilty goes into villages that no one else wants to go to because of the difficulty of reaching the place.
As we were going to Ezbet Iskandar, the Not Guilty team had to take a truck, then ride in the back of an open truck to reach, then walk for half an hour.
Add to this the fact that no restrooms were available. Thus, the Not Guilty team avoided drinking any fluids.
Yet, training 200 kids with anti-sexual abuse training and discovering many cases that needed follow-up made it all worth it.
The Head of the Ezba asked us to come back and train the women and the men about boundaries, sexual abuse, and the role of the husband and the wife.




Links: