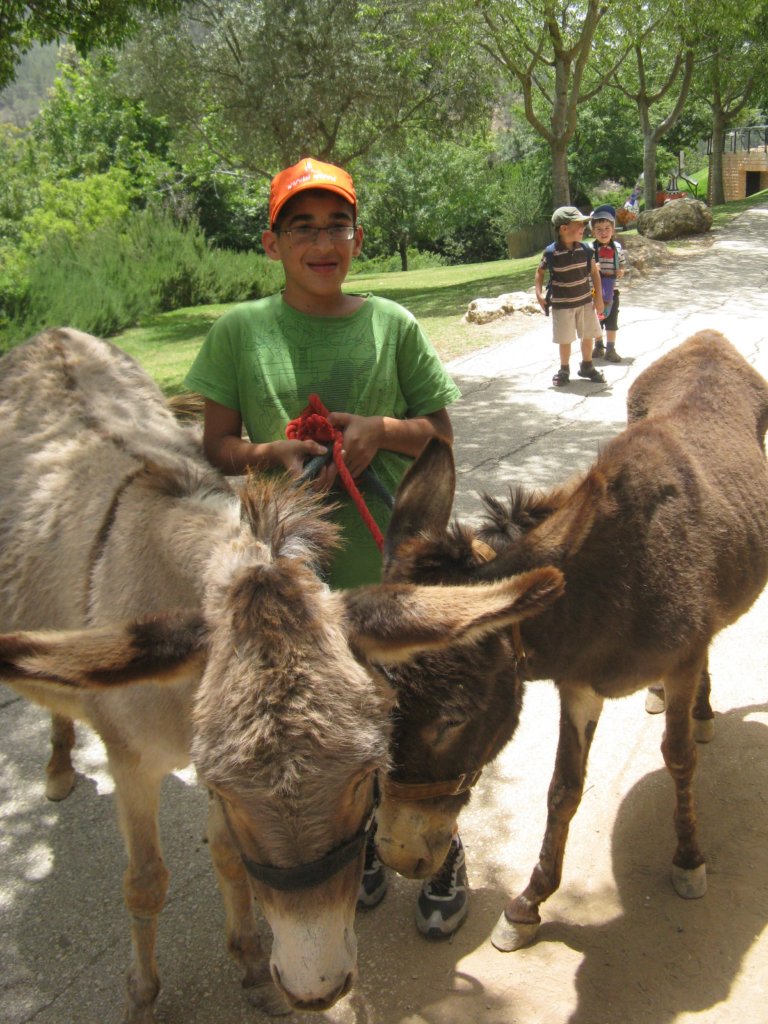 Hello Valued Supporters,
Continuing our "Did you know?" series of reports, we would like to share with you some more in depth information about the community served by this unique therapeutic modality.
More than 8 million citizens inhabit Israel today. This number is composed of 82% Jewish and 18% Israeli-Arab) citizens. At the close of 2009, the population of children living in Israel numbered just under 2.5 million, constituting 32.7% of the general population. 12.8% of children in Israel are recognized as having one or another kind of disability. 8% are children with learning/behavioral disabilities, 16% have chronic diseases, 14% have physical disabilities, 11% have sensory disabilities, and 6% have intellectual disabilities. 8% of these children need socio-educational support, medical or paramedical treatment on a regular basis. Of these children, about 40% suffer from more than one disability, such as physical disability and mental retardation, or sensory disability and learning disability. The rate of boys with disabilities (9.8%) is almost twice the rate for girls (5.4%). The number of children with disabilities is especially high in municipalities on a very low socioeconomic level (Jerusalem falls within this category): 11% versus 7.7% in the general population.
Children with disabilities, as compared to children without disabilities, are still at higher risk to be abused and/or neglected by family, professional staff or peers at school than other children. The most frequently abused children are those with mental, developmental and emotional disabilities.
The Israeli educational system includes four primary directorates: Jewish Secular, Jewish Religious, Jewish Ultra-Orthodox, and Israeli-Palestinian (Non-Jewish). Each directorate has both general and special education divisions, each with its own bureaucratic machinery. Jerusalem's education system is the largest, most diverse, and most complex municipal education system in Israel. It must address the needs of populations with distinct characteristics. The city's education system, in all these sectors, is marked by a high level of variance among schools and includes official public schools, recognized but unofficial schools, municipal and non-municipal schools, and private schools.
Special education students constitute 2.6% of all the students in Israel. 40% of these students are children with learning disabilities, 25.7% suffer from some form of mental retardation, 7.5% have behavioral disorders, 4.1% have moderate multiple mental disabilities, 3.7% have developmental delays, 3% are hearing impaired, 3% have cerebral palsy, 2.7% have emotional disorders, 2.6 % are autistic and 8.9% suffer from other mental or emotional problems. In Jerusalem there are approximately 5,800 children in special education institutions and many other children receive special education services in regular schools coordinated by regional support centers.
The AAT program at the Biblical Zoo deals mainly with children within the special education system in Jerusalem. This cross cultural project includes participants from all of Jerusalem's diverse communities - Jewish, Christian and Muslim, both secular and orthodox, from diverse socio-economic backgrounds, of various ages, and with disabilities of varying degrees. We even cater to a small number of adult groups from assisted living facilities.
Participants suffer from a wide range of physical and cognitive challenges requiring constant intervention through medical or non-medical care including hearing impairments, communication difficulties (such as Selective Mutism), neural development disorders (such as Autism and Asperger's Syndrome), learning and concentration difficulties (for example Attention Deficit Disorder and Dyslexia), mental and developmental disabilities or delays, behavioral disturbances, and emotional problems (particularly in children from abusive family situations).
These children really need our help and support. Thank you for making this unique and special program helps possible so that they can cope with their physical and emotional challenges and realize their full potential.
The Animal Assisted Therapy Team at the Jerusalem Biblical Zoo