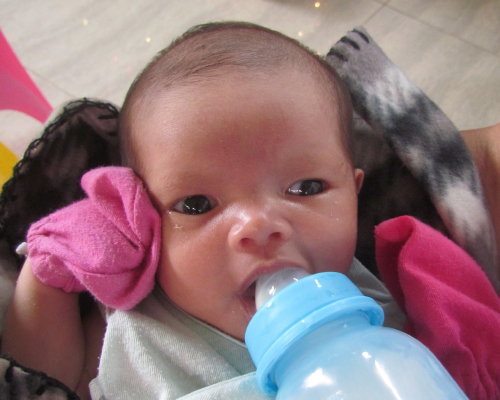 As the saying goes, 'Christmas is the time for giving', but what about the rest of the year? As a residential care home for young children, Angel House is open 365 days a year and ready to receive abandoned, neglected and orphaned children that need our specialist care.
Just last week we collected a new-born baby girl that was left naked in the garden of a house in a nearby city; we can only guess at the reasons that a mother would feel the need to abandon a child that she had carried in her belly for nine months, she must have been in desperate circumstances. (see photo)
Your funds help to keep the lights burning brightly in Angel House every day of the year; a beacon for despairing parents that seek shelter for the infants they can no longer care for. We help these children to heal their emotional wounds and ensure that they have a loving family that will care for them and give them a better future.
So please don't just donate to your favorite charity at certain times of the year and instead become a monthly recurring donor, that way you can spread your giving through the year and give Angel House a regular income that covers our daily expenses.
We all love our children every day of the year and celebrate their unique personalities each and every day, so after you have read this newsletter, please give your children a hug and tell them how much you love them (even if they are hormonal teenagers, we all need a hug and to be reminded that we are loved).
Then visit our Global Giving page and give a donation of love for our little angels, any day of the year!
Links: