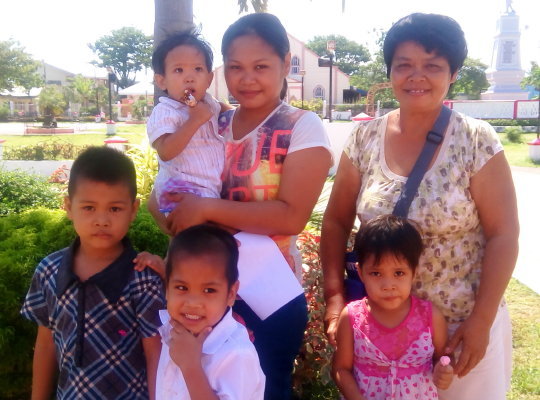 Last week we gave three siblings back to their family in Cateel, a coastal community in the north of Mindanao and a four-hour drive from Angel House. These young children were neglected and malnourished when they arrived in August last year and the two-year old girl still has some health issues resulting from poor nutrition before coming to Angel House. After months of preparation the family was ready to be re-united with their children and the local social worker will monitor their progress over the coming months.
The northern seaside town of Cateel was devastated by a typhoon in 2012 that left over 1,000 dead and thousands of families homeless; this has led to many psycho-social problems within the community resulting in many referrals of children to Angel House from that area over the last few years. Government housing projects for the homeless families have been poorly managed and many families have refused to move in to the badly constructed homes. For those that relied on fishing and farming for their livelihood, the typhoon also took away their only source of income.
Typhoons, earthquakes and tsunamis have been very much part of the international news over the past month; everyone that watches the distressing scenes on TV of dead bodies and homeless people desperate for help from government agencies and NGO's finds it emotionally disturbing. Some of you may even have given a donation to one of the many organizations that are doing their best in a very challenging and dangerous environment, such as in Indonesia. The Philippines also sits on the Pacific 'ring of fire,' which means we also have many earthquakes and the possibility of a tsunami. Every year our country also experiences several typhoons that bring devastation to many communities.
But natural disasters like typhoon Pablo that devastated Cateel make the headlines for a few days and then the world moves on to other news, even though the effects on the families involved are long lasting. As with the three little children that were re-united with their family, it can create problems for those who were not even born at the time of typhoon Pablo. Angel House is always willing to offer our professional assistance to the most vulnerable; the small children left in poverty and neglect. With your support through Global Giving we will be ready and prepared for the next natural disaster, whether it be a typhoon, earthquake or tsunami.
Links: