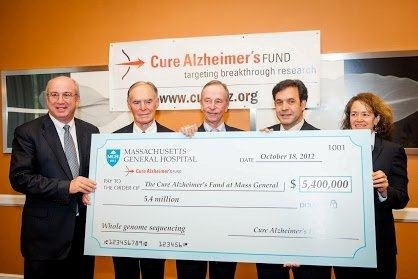 Largest Single Private Investment in Alzheimer's Whole Genome Sequencing Targets Effective Therapies and Cure: $5.4 Million Awarded for Research to Guide Alzheimer's Drug Development
Understanding who is most susceptible to Alzheimer's disease and developing early detection models, effective therapies and possibly a cure, is the goal of the largest single private scientific grant ever invested in Alzheimer's Whole Genome Sequencing (WGS) focused on families afflicted with the disease.
A $5.4 million contribution from Cure Alzheimer's Fund to Massachusetts General Hospital (MGH) will allow state-of-the-art whole genome DNA sequencing to further understand the genetic roots of Alzheimer's disease.
Over the last eight years the Cure Alzheimer's Fund has become one of the key players in identifying and funding frontline research that is changing the face of Alzheimer's research. In 2008, the first phase of its Alzheimer's Genome Project (AGP) with MGH identified several novel Alzheimer's genes and was named a "Top Ten Medical Breakthrough" by TIME magazine.
This study will aim at discovering the genetic switches controlling the Alzheimer genes and how they are triggered by other genes and by environmental inputs. It will examine DNA variants in the Alzheimer genes that influence risk for the disease. While the first phase of the Alzheimer's Genome Project determine "what" genes influence Alzheimer's, the second phase will use Whole Genome Sequencing to determine "how" these genes confer increased risk for, or in some case, protect against the disease.
Over the course of the next 12-18 months, the study will obtain the complete genomic sequences of more than 1,500 subjects in families that have Alzheimer's, and will include over 100 brain samples. The genomes of family members with the disease will be compared to those members who have been spared the disease to identify the sites in the genome that influence risk for Alzheimer's -- the first-ever whole genome sequencing project targeting Alzheimer's disease based on family samples.
The findings will not be proprietary and will be made freely available to the scientific community worldwide so that the whole field can make use of the data to move the science forward. Currently, scientists have limited understanding about the total genetic make-up of Alzheimer's disease. Without more in depth information, it is impossible to determine who is most at risk of the disease or to find a cure.
"We will be leading the way in an exciting new area of study that is just in its infancy," said Jeff Morby, chairman and co-founder of CAF. "No one else in this area of study will be on our timetable or have our sample size. It will make a huge contribution to the field and hopefully bring us a step closer to solving the mystery of Alzheimer's."
"This research is searching for genetic factors that influence risk for getting the disease and affect brain pathology," said Professor Rudy Tanzi of MGH and Harvard Medical School who will lead the project. "We are taking advantage of cutting edge technology to discover how our genes determine susceptibility to Alzheimer's disease and will use this knowledge to guide drug discovery efforts."
"This is an ambitious new collaboration addressing a major health care problem facing our nation," said Peter L. Slavin MD, president of MGH. "It expands our current work with the Cure Alzheimer's Fund, which has dramatically advanced Alzheimer's research with the identification of more than 120 new candidate genes. We will now be able to mine this information for new levels of detail and give new hope to patients here and around the world. "
"The application of comprehensive whole genome DNA sequencing to identify the gene variants that influence risk for Alzheimer's disease is absolutely essential for understanding the biological underpinnings of this terrible disease," said Tanzi." This is unprecedented examination of the genome in families afflicted with Alzheimer's disease and we expect that these findings will provide valuable new clues about how to effectively treat and prevent Alzheimer's disease."
"The data from the WGS initiative will drive much faster development of therapies, both to prevent the disease and arrest its progress," said Morby. "This approach is highly efficient. While the dollar commitment is significant, the cost-per-discovery will be quite low."
"We are not focused on incremental progress, but instead are going for the "long pass down field" for a significant impact," said Morby. "Our projects have established new paradigms for understanding the very basic causes of Alzheimer's."