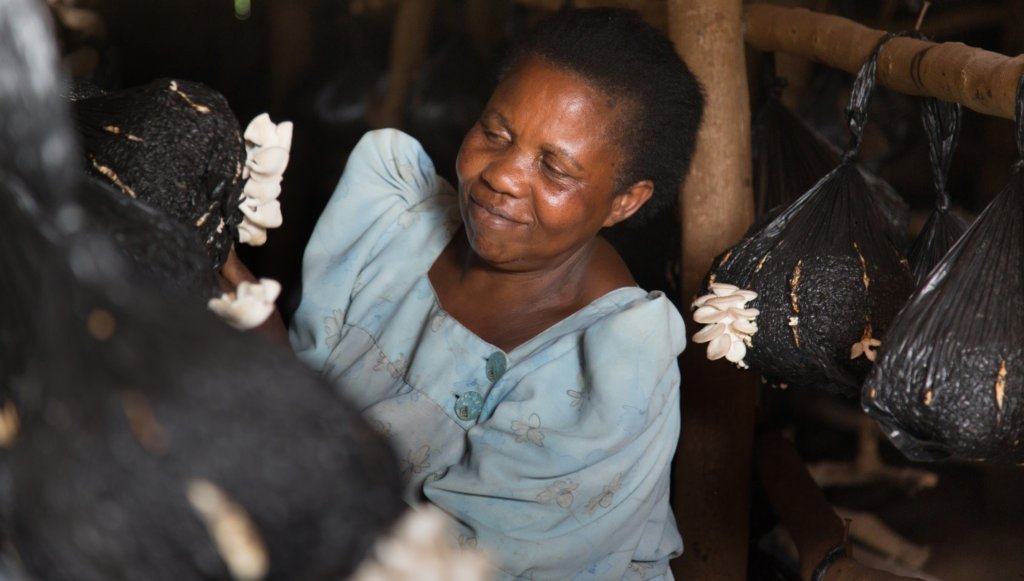 Aidah, a proud wife and mother of six children, operates a farm in Mityana, Uganda. Her kids are grown and ready to take on the world because their mother and father have equipped them well. One child works as a journalist, one a teacher and the other siblings are farmers and entrepreneurs. Each in their own way has risen above the severe poverty that has marked the family for generations. There is much to be grateful for – however, for Aidah and her family, the future has not always held so much promise. Not long ago she and her husband rose each morning faced with feelings of fear and shame. The couple lacked access to the resources they needed to put nutritious food on the family table, pay for school fees, or purchase medicine when a child fell ill.
Aidah was growing several crops when she took her first loan of $167. The access to credit and training smoothed out her family's cyclical farming income and provided extra capital to invest in future harvests. She reared chickens and silkworms in addition to growing coffee and bananas to sell at market. The operations were all risky—dependent on good weather and uncertain commodity markets. She hatched a plan and sought the capital to make it happen. She needed someone to show faith in her ability to nurture her idea into a sustainable business. In Opportunity, she found so much more than just a loan, she found a business partner. She used that loan to launch her business growing and selling mushrooms. That was in 2012 – she has never looked back.
Now that her children are young adults, Aidah's dreams are focused on her business and her community: "My most fervent dreams are no longer for myself. I thrive on guiding women to generate income for their families through entrepreneurship. This income is used to send children to school." Aidah doesn't stop with mentoring women in her village, she is also a powerhouse in her community, actively participating in projects like bringing fresh water to families.
When Aidah speaks, people listen. Throughout her community in Mityana, she is respected as a woman of influence. Following in her husband's footsteps as Chief of their village, Aidah serves as the vice chairperson of her local council. According to Aidah, "I am the kind of woman who is never left behind when a decision is needed or a when a project or opportunity comes to my community." Her innate leadership skills are a benefit to the women in her Opportunity Trust Group and her village whom she mentors along their own journeys toward independence, teaching them the benefits of her low-risk, profitable mushroom operation. "I see an opportunity for women to run a business like growing mushrooms that require little attention and incur few losses, leaving time for them to guide their children and take a role in the community."
Her farm is flourishing, a testimony to the growth in business skills and confidence she has achieved. A savings account, which she can access via her cell phone, is her favorite way to track her progress. Today, Aidah and her husband, once plagued with concerns about making ends meet, are looking forward to futures marked with bounty and hope for their family and community.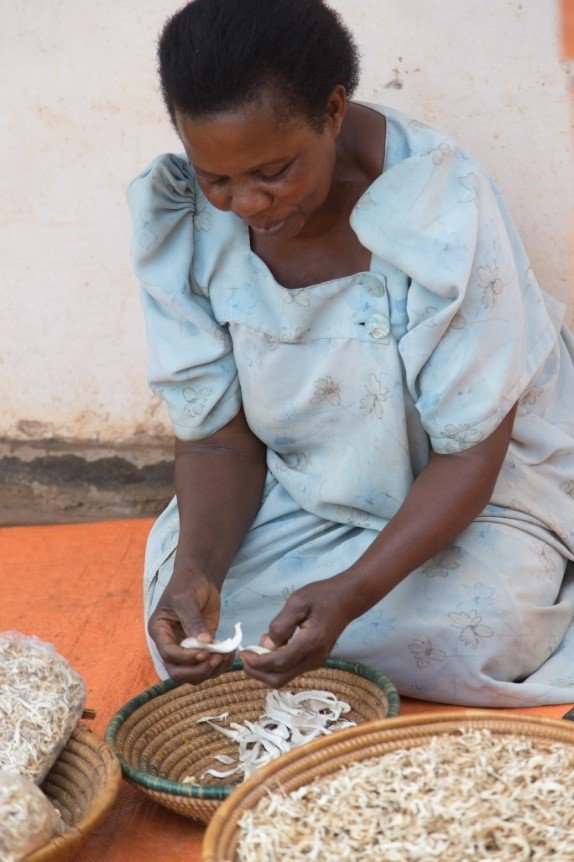 Links: