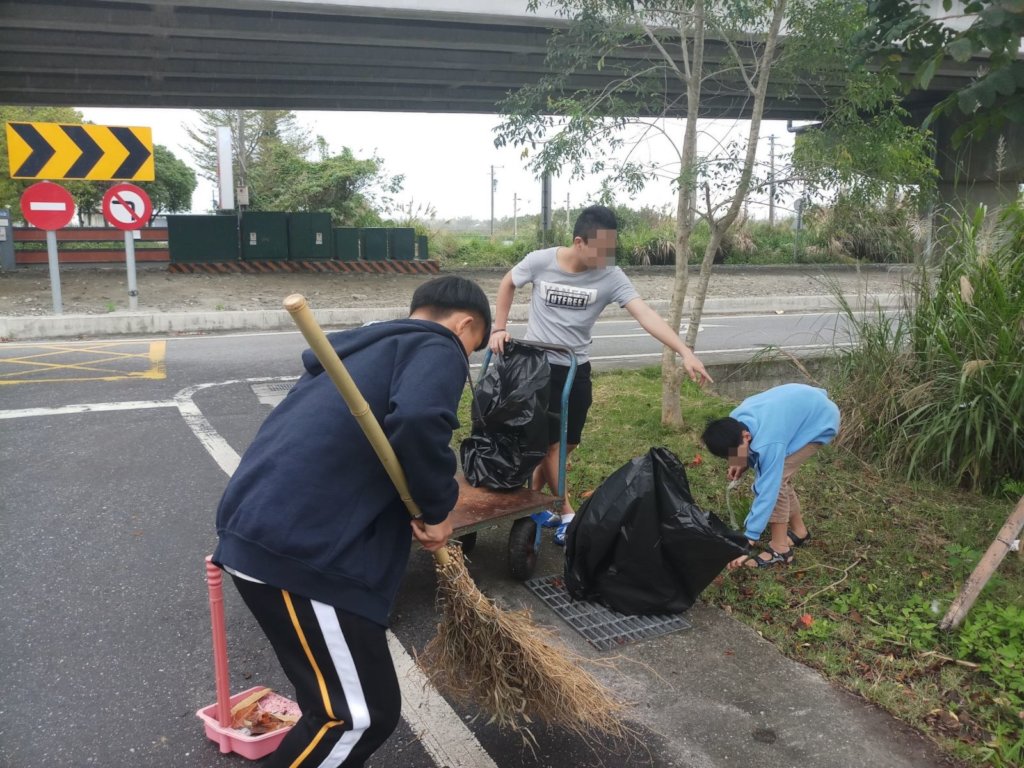 Monthly cleaning streets activity was coming! Teens from Mustard Seed Youth Home brought up all cleaning stuffs, like brooms, trash bags, dustpans, rakes, and a cart, and walked to the community. While they were cleaning, neighbors cheered up for them. Besides, the chief of village saw them keeping picking up trashes in the sun and sweating, so he bought beverages for them. All of them were happy and all the tiredness were gone!
There were many kinds of trash on roads and in bushes, glasses, betel nut residue, cigarette butts and boxes, to go boxes, beverage cups, plastic bags, styrofoam, and even needles were included. After nearly an-hour of cleaning, they realized how hard cleaners work. Some said that people should not litter, because it may cause others' inconvenience. Moreover, if people stop littering, it's not necessary for teens from Mustard Seed Youth Home to clean up communities.
When we started this project, teens had some complain at the beginning. They wondered that why they had to clean communities, while there're still lots of places to be cleaned in the Mustard Seed Youth's Home. The teachers communicated with them and shared with them that with everyone's effort, communities will be cleaner and it's also a way to contribute to the society. They finally realized the meaning of this project and were willing to make effort to do so.
Through Diversified Learning Project, Mustard Seed Youth Home provides teens a variety of opportunities to learn, developing themselves, having more experience of social life, improving their social interaction skill in small groups, and enhance the social adaption skill. Moreover, Diversified Learning Project also focuses on moral education, helping teens develop positive characteristic and patience so that they may have good future and interaction relationship after leaving the Mustard Seed Youth Home.
----
Our Projects:
*Challenge Camp
http://bit.ly/2NKscIM
- Help community underprivileged children in Taiwan are able to have the chance to see and learn more!
*Sprout Up Project http://bit.ly/2NJk0bV - Help Vulnerable Children's Life Have Bright Future.
*Diversified Learning Project for Children http://bit.ly/2NJoPC7 - Help Children in Agape Children's Home and Mustard Seed Youth Home are able to explore more through learning.
*End Hunger http://bit.ly/2NM41Kj - Build a Food Bank Distribution Center - Sharing food to community needy people and families!
*Indonesia Tsunami Post-Disaster Recover Project http://bit.ly/2RAApke
----
The Mustard Seed Mission
Website: http://www.mustard.org.tw/locale/en
Facebook: https://www.facebook.com/mustard.tw/
Donation Information: https://www.mustard.org.tw/locale/en/tab/898
E-Newsletter: https://goo.gl/e8EUBo
MSM - the 1st registered Social Welfare Organization in Taiwan - https://youtu.be/qyTAv0L5Sz0