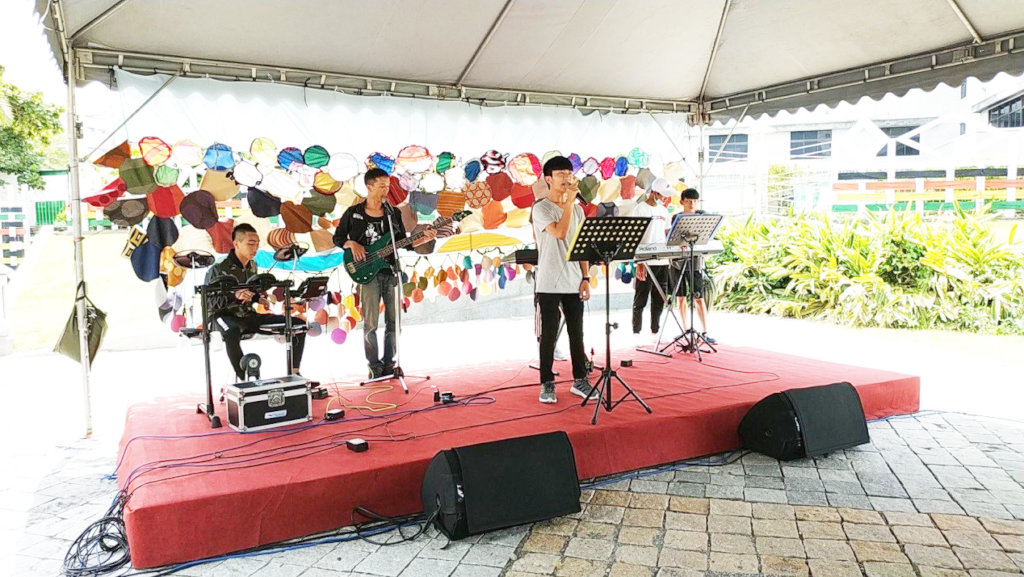 The First Public Performance
Children in the Mustard Seed Youth Home woke up early to go to the Freedom Plaza in Hualien City. It was the children's first public performance this year. It was an exciting and yet intimidating experience to perform in public. Before the performance, children have been practicing for several months. The children wanted to perform their best for the audience, so they practiced for many hours and worked very hard to make sure every song is sound-perfect.
Children's First Public Performance
Passionate Music Band
With the brisk love song "Answer" as an introduction, the audience followed the rhythm and tapped their feet along with the beat. Another song "Yours is the Kingdom" showered the audience with God's blessing. The performance ended with the famous song "Rice Field" as the audience sang together to wave with the melody. During the short fifteen minutes, the children performed at our finest and received huge applause and encouragement.
With this successful performance, the children gained their confidence on stage to showcase their talent. Children hope they can receive more invitations for future performing opportunities to share the beauty of the music with everyone.
----
Our Projects:
*Challenge Camp http://bit.ly/2NKscIM - Help community underprivileged children in Taiwan are able to have the chance to see and learn more!
*Sprout Up Project http://bit.ly/2NJk0bV - Help Vulnerable Children's Life Have Bright Future.
*Diversified Learning Project for Children http://bit.ly/2NJoPC7 - Help Children in Agape Children's Home and Mustard Seed Youth Home are able to explore more through learning.
*End Hunger http://bit.ly/2NM41Kj - Build a Food Bank Distribution Center - Sharing food to community needy people and families!
*Philippines - Typhoon Mangkhut Relief Fund http://bit.ly/2Fy4DQ4
*Indonesia Tsunami Post-Disaster Recover Project http://bit.ly/2RAApke
----
The Mustard Seed Mission
Website: http://www.mustard.org.tw/locale/en
Facebook: https://www.facebook.com/mustard.tw/Donation Information: https://www.mustard.org.tw/locale/en/tab/898E-Newsletter: https://goo.gl/e8EUBoMSM - the 1st registered Social Welfare Organization in Taiwan - https://youtu.be/qyTAv0L5Sz0----