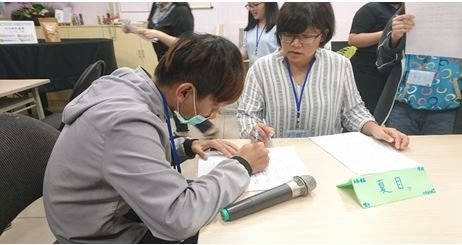 Because I want to understand it all!
I want to keep practicing because I want to understand it all! A touching talk came out from the 17-year old Xiaoting who faced difficulty at his very first job.
Xiaoting works and learns hard in the office
Xiaoting grew up in a single-parent family with a parent who is Taiwanese new immigrants and holds a disability card. After the first year at high school, Xiaoting left school for joining his peer ruffians and frequently made troubles. Through another organization, he was introduced to Yes, I can. Youth EmploymentTraining Program.
When assessing if Xiaoting was suitable for joining this program, the social worker asked Xiaoting why he chose to start working instead of continuing his education.
Xiaoting said: I was a terrible rascal. I flighted and made a lot of troubles so I dropped out from school. I wasn't really interested in studying at all.
The friends I used to hang out with were too complicated so I stop keeping in touch with them.
I want to work and have money for my family and I want to visit my father who lives at a care center in Yunlin. I miss my father.
A step by step
Xiaoting then joined Youth Employment Training Program and started receiving training. On the class, he was a quiet and timid student who seldom spoke. He was slow when reading and writing questionnaires and resume but always completely focused on it. He was willing to do everything thing step by step. Xiaoting frequently faced the difficulty of job hunting previously due to young age and slow reaction, therefore he explained that he is willing to do any job as long as he finds one.
Despite slow reaction, Xiaoting still completely focuses on learning
After finished the program, social workers helped Xiaoting to find an internship opportunity at an industrial enterprise. Even though the enterprise saw Xiaoting's obstacle at work, they were still willing to provide him a 2-week job training. Xiaoting was trying very hard on learning every skill. However, he sadly had to leave for not meeting the enterprise's requirement. Social works relentlessly continued with a suitable job for Xiaoting and employers who are willing to accept an employee with mild mental disorder. Finally, they found an entrepreneur of a cosmetic company who is Xiaoting's current employer who offered him a position at wrapping sector. Xiaoting smoothly adapted to the working pace. Xiaoting, the hard-working boy, found his own world where he is 100% acceptable. Mostly, a job that he is capable of!
The change
Xiaoting now often says to the social worker: Thank you very much, sister.
During this job-hunting journey with Xiaoting, everybody saw all the efforts he made. Despite difficulties and obstacles, Xiaoting tried out step by step for starting a stable life for himself and his family who he cares. Instead of making troubles, he can positively move on his life.
Links: