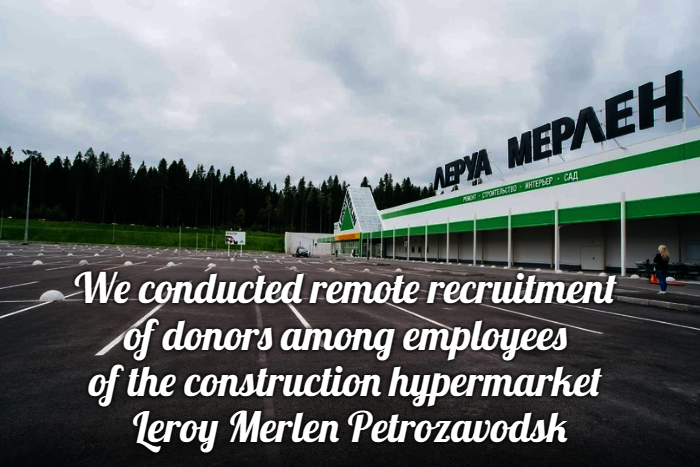 Dear Friends!
The COVID19 pandemic continues, and we continue to work no matter what. Thanks to your support, we have been productive over the past 3 months.
First things first:
1. We accepted and processed 40 requests from different countries for bone marrow donors. Fortunately, for 2 inquiries we have compatible donors in our Registry. It means that 2 terminally ill patients have a chance of recovery. Our donors agreed to undergo the necessary examinations and are now waiting for a decision from the clinics in which the patients are located. We all hope for a happy ending!
2. We continue recruiting new donors. The COVID19 pandemic made us change all plans. We had to stop mass recruitment campaigns at universities and colleges, as well as in our office. Nevertheless, after a pause, we began to receive documents and samples from donors by mail. We also conducted remote recruitment of donors among employees of the construction hypermarket Leroy Merlen Petrozavodsk. Thanks to the manager of the hypermarket Ekaterina for help in recruiting! We definitely will use this experience in the future.
3. One of the very pleasant moments: in May our Registry turned 19 years old! We had a very cool online concert in honor of our birthday. Our friends from the Art Space, wonderful musicians from Petrozavodsk and professionals from the video studio helped us to organize the concert. More than 1000 spectators joined us, and donors and benefactors from Russia, Germany, Thailand and Switzerland sent their congratulations. You can watch the recording of the concert on YouTube and subscribe to our channel.
In conclusion, we would like to thank you for your support! Thanks to your donations the Registry continues to grow. And together we help rid the world of leukemia.
We wish you all to stay safe and healthy in this challenging time! Take care of yourself and your loved ones!
You can help us to improve our work not only with your financial assistance, but also with your feedback about our activities.
Please tell us:
What would you like to know about us? What should we talk about in our reports?
Do you follow us on social media? If so, can you name them?
Would you like to help the Registry not only financially, but also as a volunteer?
To respond, please follow the link:https://forms.gle/PByBEmRZneChHACv6
You can do this anonymously if you want.
Links: