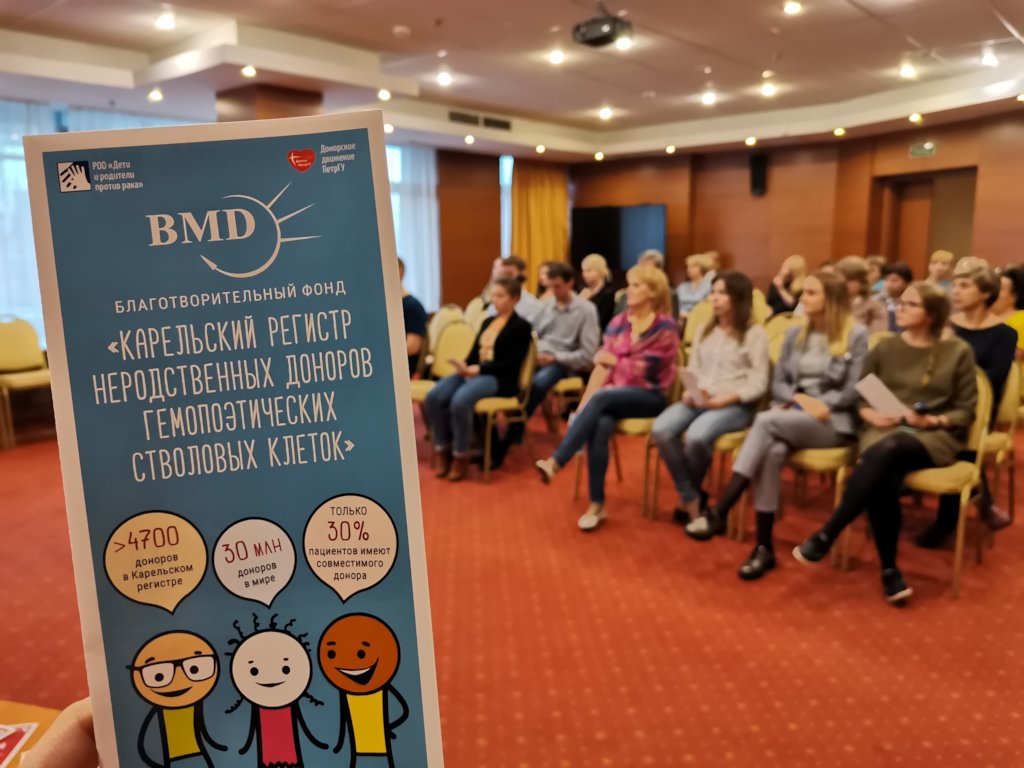 Dear friends!
On behalf of the Karelian registry team, we congratulate you on the past World Bone Marrow Donor Day! This celebration brings together bone marrow donors, doctors, patients, registry volunteers and philanthropists - all who contribute to the fight against leukemia!
Thank you for being with us! Thank you for your kindness and many years of help!
It is symbolic that during the days of the celebration a very important event took place - a man from our registry became a donor for a child from another country on September 24th!
This story developed rapidly. We received a donor request in July. It stated that the disease develops very quickly and if transplantation is not done in the coming months, the patient cannot be saved...The donor was searched all over the world, but only one person from our registry turned out to be compatible. In a short time, we were able to organize a donor examination. Fortunately, he was healthy and was able to donate bone marrow cells. He helped to save the life of this boy! This is a real miracle! And it all happened thanks to you, because with the help of your donations this man was included in the register!
This is the second case in 2019 when a donor donated bone marrow cells for patients with leukemia.
In just 9 months of this year, we received more than 100 requests for donors from around the world. This is more than the number of requests in 2018.
Inquiries and successful donations inspire us to actively attract new donors.
And that is what we are doing! Over the past 3 months, we conducted weekly donor recruits in our office, went to recruit donors in other cities, and received samples by mail from residents of remote places. In collaboration with other organizations, we held lectures and information meetings, dedicated sports competitions to the fight against leukemia, and we organized film screenings about bone marrow donation.
Goodness and mercy have no limits. You, philanthropists from around the world, are helping us, the registry of donors from Russia, financially. Thanks to you, the registry is developing, and our donors donate bone marrow cells to patients from both Russia and other countries. So together we will get rid of leukemia in this world!
Friends, we have the opportunity to increase your help! Participate in #GivingTuesday and encourage your relatives, friends, and work colleagues to do so!
#GivingTuesday is a worldwide charity day that inspires people to collaborate and give back. The GlobalGiving 2019 #GivingTuesday campaign will begin on 3rd of December, 2019, at 00:00:00 ET and will end at 23:59:59 ET on 3rd of December, 2019.
This year, projects will compete for part of the $500,000 incentive fund. This means that if, for example, 1% of the total amount of dollars raised by all projects on Tuesday is donated to the Karelian Register project, then another 1% - or $5000 - will come from the Incentive Fund. $5000 means 700 new bone marrow donors included in the registry and in the global database. And every donor gives people with leukemia and other blood diseases a second chance.
Please make your contribution at https://www.globalgiving.org/projects/add-marrow-donors-eliminate-leukemia-worldwide/
And tell your friends about it on your social networks.