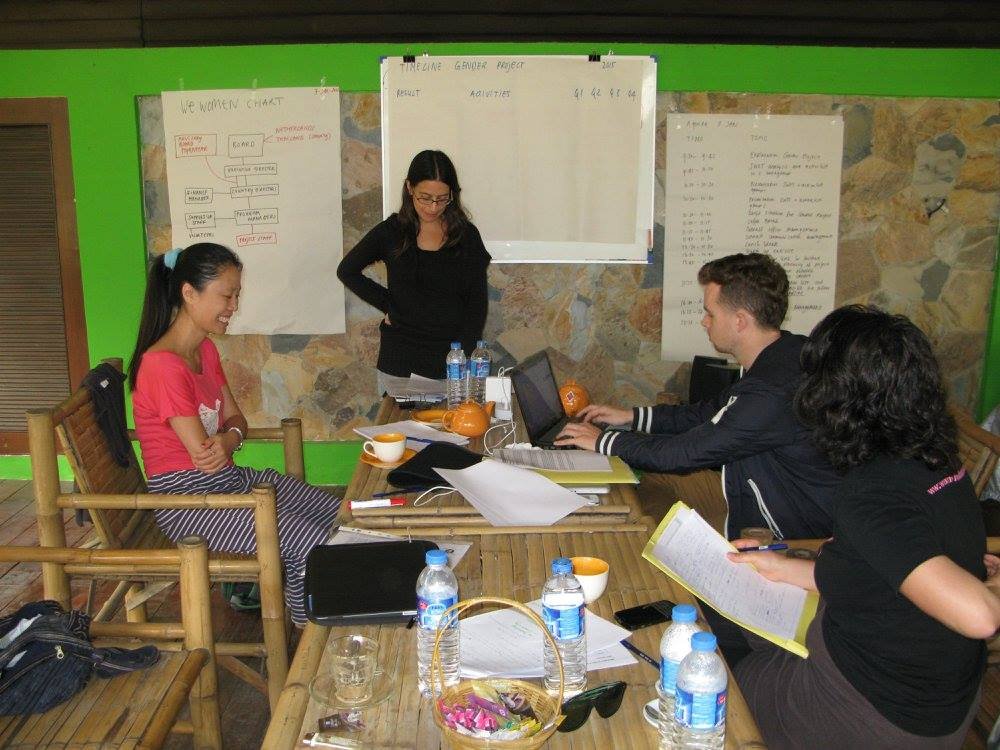 The we women team recently met to brainstorm and develop a strategy for our Agents of Change Program. The rationale for the project and project details including costs are described below:
Our Thinking:
We women believes Myanmar should be a nation in which women are considered to be equal and a driving force behind economic, social and political reform. At every level, women from different ethnic backgrounds should be leading in shaping institutions, policies and values. To this end, the Women: Agents of Change project seeks to plant the seeds of a social economy in the women of Myanmar, aiming to build a critical mass of women leaders to serve as role models to all girls and women in Myanmar.
The problem and our proposed solution:
For many years in Myanmar, the numbers have shown around 45% of the population to be unemployed. Women make up 51.8% of the population, but only 38% of them are active in the workforce; mostly as unskilled labourers. We women believes that the key to successful development lies in gender equality and therefore aims to empower the women of Myanmar to become economically active.
Since 2011-12, political reforms have been implemented by the central government to shift toward a more democratic system. Following these reforms, a lot of the economic sanctions imposed by Western countries have been lifted. Great numbers of investors and aid organizations have moved into the country to start rebuilding the collapsed structures and boost economic and social development. Unfortunately, up until now, these investments are mainly centered around the central region of Myanmar (Yangon region) and do not reach the disadvantaged ethnic groups in the outer provinces of Myanmar. We women wants donors to invest in these regions to prevent a widening of the economic and welfare gap between the different ethnic regions of Myanmar.
Considering the above and the fact that donors are increasingly unwilling to fund the NGO model where there is 100% reliance on their donations, We women strives to empower high potential women from disadvantaged communities to claim ownership of socioeconomic development by introducing a model of self-sufficiency. Through the founding of social enterprises (i.e. organizations that apply commercial strategies to maximize the improvement in human and environmental well-being, rather than maximizing profits for external stakeholders), the most promising business women are encouraged to claim positions of leadership in their communities and apply their influence and skills to accomplish improvements to their society. In this manner, women are empowered to make and influence policy decisions which are too often made by outsiders, and they are less reliant on the willingness of donors to fund their endeavours.
Project objective:
To catapult women from disadvantaged communities into positions of leadership by empowering them with key business knowledge and capital to found social enterprises, enabling them to bring about sustainable change for themselves and their community.
To expand the knowledge base of participants by providing training in basic business concepts and financing,
To assist participants in translating their entrepreneurial ideas into concrete and viable business plans,
To provide participants with the necessary capital to establish their social enterprises,
To support participants with advice and coaching during the process of founding and expanding their social enterprises.
Target Audience:
This project targets women who have proven business instinct, the drive to be at the head of a social enterprise and the ambition to become a leader in their community.
Total costs:
€37.350 ($40,712)
Indicators for success:
A minimum of 95% of the participants have successfully completed the financial literacy & enterprise training,
A minimum of 80% of the participants will have written viable business plans,
A minimum of 80% of the requests for loans are approved either by We women or other financial institutes,
A minimum of 90% of the loans are fully repaid within 12 months after being granted.
The we women foundation is actively fundraising to kickstart our Agents of Change Project in disadvantaged communities in and around Southern Shan State in Myanmar.