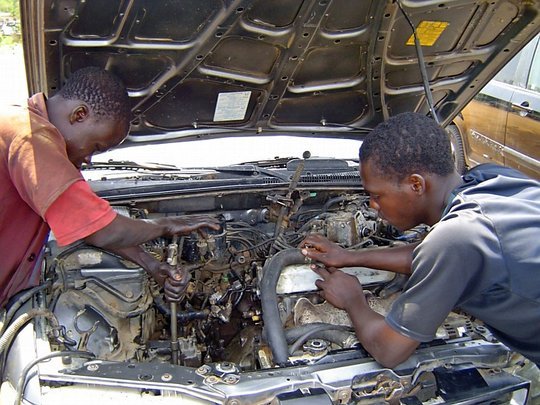 Dear Amazing Leadership Initiatives and Respective Donors,
Because of your generous donation, the Abubakar Automobile Repair shop will be created. The vast majority of Bauchi's youth population is made up of petty traders, who do not have the specialized skills or training that most individuals should have in order to achieve the most basic elements of economic independence. To attempt to solve this issue, the Abubakar Automobile repair shop will provide necessary skills and income to young men who have no other alternatives. This repair program will provide vital repair services for the surrounding community members who cannot afford to take their vehicles to other local repair shops. The income the individuals will generate will also raise the standard of living for both their immediate and extended families helping to solve their local poverty issues. Lastly, not only will this shop economically improve this community, it will also demonstrate to their youth that hard work and skills training are important in building a strong and successful future.
Our students create novel solutions firmly grounded in principles of social entrepreneurship. We have previously created in Bauchi, Nigeria businesses in: fish farming, welding, tailoring, motorcycle repair & computer education with job placement. Currently, through creating the Abubakar Automobile Repair shop, youth leaders will be trained by skilled mentors in automobile repair. It is planned that eight to twelve young individuals will be selected and apprenticed to become an experienced tradesman. It will be expected that these individuals will complete a year course of training. At the end, they will be fully prepared to set up shop independently or seek paid employment. The expectation is that six of the selected individuals will graduate from this program. Moreover, each participant will also be trained in business management skills, which will further open doors for them to seek employment within their community.
Because of you and your generosity, we have been able to continue our efforts and develop independent profit-generating businesses that serve as models for growth in surrounding communities. Project beneficiaries fill voids in the local economy while improving their families' health, education and financial stability. Previous leaders have sent their brothers, sisters and children to school, helped invest in new businesses within the community, offered new services to community members such as the disabled, establishing infrastructure for the future growth of Nigeria.

Leadership Initiatives will be regularly providing updates and insight into these projects as the month's progress through GlobalGivings reporting program. Of course, at anytime you can request a project update to learn up to date info on how this project is progressing.

As a supporter of " Create 6 jobs with an Automobile Repair Program", Leadership Initiatives would love to have you involved if you ever want to help grow our programs, learn of ways you can participate or have new ideas on how to develop our programs please contact me at mbailly@leadershipinitiatives.org. Your hard work and intelligence is the greatest gift we could receive as we attempt to create a better world.

Thank you once again from the bottom of everyone's heart here at Leadership Initiatives. If you would ever like to speak to our staff on the ground, a project leader, one of our Business Alliance student participants, we would love to set up a Skype chat for you, so you can personally see the change you are creating.

Wishing you, your family and your friends the absolute best!

Sincerely,

Marshall