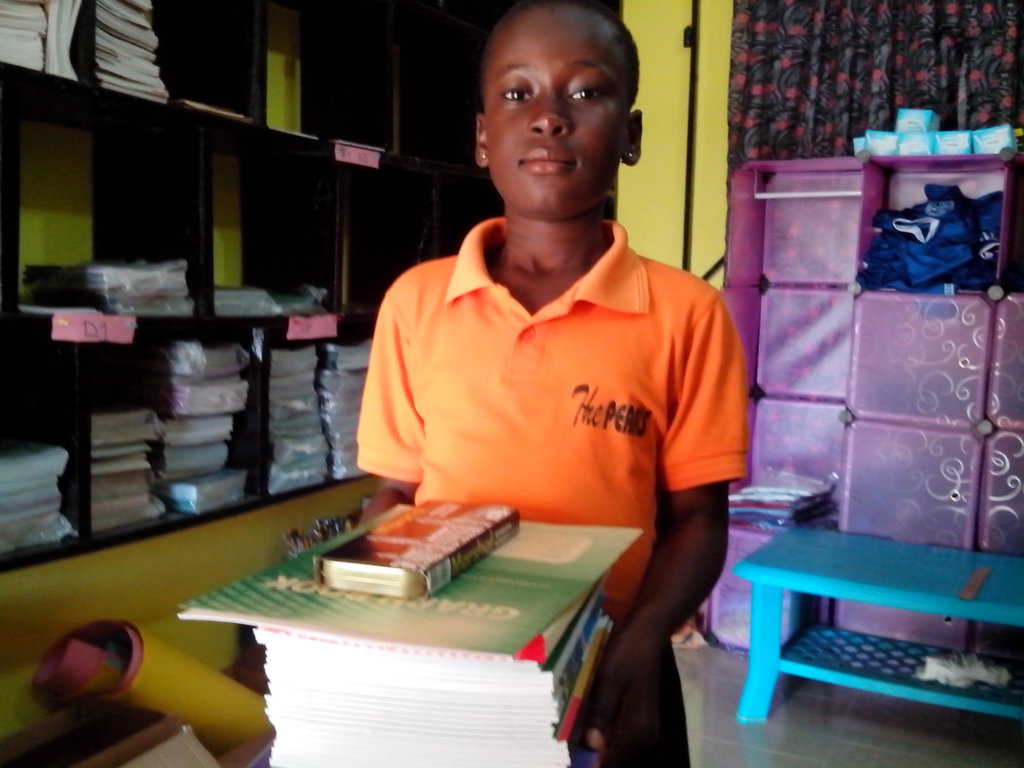 On behalf of Erica, the poor orphan, PAAJAF says thank you for your sponsorship of Erica for the 2015-2016 school year.We are providingyou with an update about Erica as at September 21, 2016. There has been some interesting and sad news. Please know that she is in school doing well today and your funding is putting many smiles on her face.
As you already know about poor Erica's history, her mother is dead and her father disappeared in 2004 and has not yet been located. He abandoned the child when her mother was stillpregnant.In March 2005,the mother gave birth to Erica, but then suddenly passed away in 2006. Since that period to date – 2016, the month of reporting, Erica has been under the care of PAAJAF. We are looking for funding for her yearly up-bringing and schooling.
Erica's caretaker is an unemployed Aunt with 3 children,whose father has also abandoned them.Having to care for Erica in addition to her own family and without the aid of a husband has aggravated her Aunt'sdesperate and hopeless living situation.
For the last three school terms, finances were tight for PAAJAF, so we arranged with the school Erica was attending - The Pearl School - to supply her with all school materials that she would need. We planned to pay the fees at a later date, as well as the two school term fees that were also in arrears. Thanks be to God and to You! You have helped and made a difference to settle all the accumulated arrears payments to avoid any humiliation or harassment of Erica.
The new 2016-2017 school year has just started in this month September 2016, but Erica has had to change from private to public school so as not to disturb her education due to the economic and environmental factors stated below:
PAAJAF does not have permanent sponsor(s) or donors for Erica, either yearly or monthly.
Due to the this, she was nearly dismissed because of unpaid school fees for the past two terms.
Her caretaker has moved to another community called Weijabecause her leasehad expired and she had no funds to renew it. She is an unemployed single mother with 3 children, all of whom need education. PAAJAF could not support her since we did not have available funding to take care for or shelter Erica.
What have we used your funds for? We have now settled all fees owed in arrears to the Pearl School for 2 school terms, in addition to all school materials, including school uniform, books, shoes and some dresses for Erica, and home feeding for this first term – September to December 2016.
Why does PAAJAF sponsor children in private school instead of public school? Because of limited public education and the existence of only one public school in the Gbawe Community,whichcannot accommodate all the community's children, private schools have a high standard and are valued in the community. Erica was in a private school when she was in the Gbawe. She is now in the Weija community with her caretaker. Both the Gbawe and Weija community private schools are very good and well-regarded. Sadly, Erica is missing out on attending private school now since we do not have enoughfunds for her. We are concerned she will miss class and the school will terminate her enrolmentdue to lack of fee payment.
We are looking for a sponsor(s) for Erica. If we can find a permanent sponsor(s) to provide funds for her, we will send her back to private school.
We will post Erica's 2017 school needs soon,which will include funding for her caretaker who needs $600 to start a small business in order to help her care for her 3 abandoned children.
Please let us know if youare concerned about Erica or PAAJAF. We would be more than happy to hear your thoughts. We need help to share Erica's needs for 2017. Would you sponsor her for the period or will you be her permanent sponsor so that she can go back to private school?
On behalf of Erica, once again, thank you very much.