Beth Kanter: Why Self-Care Isn't A Luxury
Too many nonprofit professionals are burning out, and the antidote is self-care, according to award-winning author and nonprofit expert Beth Kanter. She tells GlobalGiving why the self-care movement is critical, and what innovative nonprofits are doing to promote wellness.
---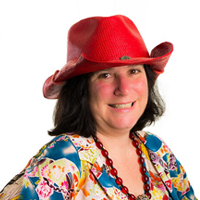 Beth Kanter
Author, Trainer, and Speaker
Who She Is:
Beth is an internationally recognized author and trainer who has helped thousands of nonprofits around the world integrate social media, network building, relationship marketing, and workplace wellness best practices. She is an expert in facilitating online and offline peer learning, curriculum development based on traditional adult learning theory, and other instructional approaches. She has co-authored three books, "The Networked Nonprofit," "Measuring the Networked Nonprofit," and "The Happy, Healthy Nonprofit." You can learn more about Beth's work on her blog.
Q: What motivated you to write your latest book, "The Happy, Healthy Nonprofit?"

A: A few years ago, I went to see my doctor, and I got a wellness test taken. My triglycerides were at 399. Less than 150 is considered healthy and normal. My doctor said to me, 'You know, if you just started walking, that would help you a lot.' Before long, I was walking 15,000 steps a day. I went back to the doctor and my tests were in the normal range. Not only were my health biometrics normal, I felt better. I had lost 40 pounds. I was spending less time at work, but I felt like I was getting more done, and I was happier. I started to do some of the research, and I got really, really excited about self-care as part of your work. When I talked to my nonprofit colleagues, they would say to me things like, 'Where do you find time in your day?' The point is self-care is not a luxury. It's not something you do after work or before work. Taking care of yourself and promoting your own well-being should be part of the way you are doing your work because it helps you get to better results. The research points this out.
Q: What have you learned about the connection between physical activity and productivity?

A: A study by Stanford, for example, found that having a team meeting while walking boosts innovation and creativity. Who doesn't want a more creative team? Another study from the University of Illinois—this is one of my favorites—shows that walking three times a week increases brain power. What brain do you want to bring to your work? What brain do you want your team to bring to your work?
Q: What is burnout, and why is it an issue in the nonprofit sector?

A: Burnout is a state of emotional, mental, and physical exhaustion that occurs when we feel overwhelmed by too many demands, too few resources, and too little recovery time. Sound familiar? It sounds a lot like a day in the life of a typical nonprofit.
In our sector, we're all passionate about the work we do. Obviously, we're not here for the money, right? We're here because we care about whatever it is we're working on—whether it's animal rights, poverty reduction, or girl's education. We're willing to work those long hours in service of the cause, but what we don't realize is that this can lead to burnout. And if you become burned out, you're no good to yourself, to your family, to your organization, or the people you are serving.
Some of the symptoms of burnout include fatigue, insomnia, pessimism, forgetfulness, impaired concentration, isolation, increased illness, loss of appetite, anxiety, hopelessness, anger, and poor performance. The problem is burnout is sneaky. We often don't even realize that we're burning out because we're not aware of the symptoms. If we're aware of the symptoms, we can begin to think of ways to take care of ourselves and avoid burning out.
Q: How are innovative nonprofits promoting self-care in the workplace?

A: At Crisis Text Line, they encourage every employee to develop a self-care plan and offer tips and recommendations in one of the first pages of their employee handbook. They also leave the office early on Tuesdays, and they play the Toto "Africa" song really loudly until everybody leaves.
At another suicide prevention hotline, they had a meditation room for people to use if they lost somebody on the lines, but nobody was using it. Well, why? It had pictures of cactus, fluorescent lights, and big, bright, white walls, and it wasn't really a meditation room. So the CEO appointed an employee engagement group to redesign the room. They had a small budget. They got a couch from Goodwill. They painted it earth tone colors; got some music for the room; good lighting. And now employees use the mediation room.
At the South Dakota United Way, they ring a bell every day at 10 a.m. and 2 p.m. Everybody gets up, and they do a walk around the office or outside for 15 minutes. It's all about getting employees' feedback and engagement on different health and wellbeing activities.
Q: How does cultivating a culture of wellness for employees impact the bottom line?

A: Creating a culture of wellbeing has benefits that are measurable, and these include things like fewer absences and sick days, lower healthcare costs, higher employee work satisfaction, and the ability to attract top talent and retain them.
Q: What are some of your favorite self-care tips for nonprofit professionals?

A: Here are six quick tips:
1. Protect your sleep.
2. Walk more.
3. Use a standing desk for a portion of your work day.
4. Unplug from your devices regularly and often.
5. Schedule quiet time.
6. Take a real vacation.
This Q+A is an abridged version of Beth's short self-care session at GlobalGiving. Watch the full session below.