This may be the seventh Cyber Monday email you've received today, but it's the FIRST to both shamelessly feature these adorable dogs AND highlight truly meaningful gift ideas for the holidays. So here you go:

We're excited to unveil GlobalGiving's 2013 Gifts For Good! Each of these gifts is free when you donate to a select project on GlobalGiving, which means your gift will make a world of difference for someone!
Make a donation in honor of anyone on your list -- they're sure to love it! -- and we'll ship one of these Gifts for Good to whomever you choose. Hurry, though, this offer is only valid while supplies last, and you'll need to leave time for that free shipping.
If you'd rather let your recipient choose the project they'd like to support, how about a gift card?
GlobalGiving gift cards make easy, thoughtful gifts, and we ship those for free, too!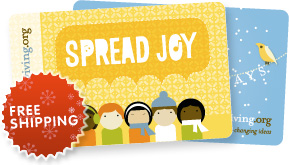 Here's to a meaningful Cyber Monday, and a great holiday season.
Warmly,
Alison Carlman and the GlobalGiving Team

p.s. Thanks to the Petfinder Foundation for finding a great home for Toby and Chula, the "odd couple" pictured above. Read their story here.