Can you believe it's May already and Mother's Day is just 10 days away? We've got some great gift ideas for you this year, but
you've got to hurry
.
See, we know you turned out to be a generous GlobalGiver, so we've got a hunch that there's a mom in your life who deserves some gratitude for loving you so well.

Our Gifts for Good make beautiful Mother's Day gifts, and we'll ship one to you (or her) for free when you make a donation. But act today to make sure the gift arrives on time! Here are some of our favorite gifts and the causes behind them:
| | | |
| --- | --- | --- |
| | | |
| (Educate Haitian immigrant children in the DR): | (Build rescue boats in flood-prone communities): | (Help re-start a mom-owned business after a disaster): |
| | | |
| (Provide one month's childcare for a marginalized mom in Ghana): | (Provide crisis support for an abused American mom): | (Feed a malnourished Guatemalan child for the rest of the school year): |
Check out our gift guide

to find a gift that will touch the heart of a mom you know, and change the life of one you don't! (Pretty cool, right?! Isn't that the kind of generosity she's come to love and expect from you?)
give her a GlobalGiving gift card.
She could choose to
educate a mom and her son in Haiti, train
Zimbabwean grandmothers
to raise and sell their own livestock, or even feed three orphaned elephants in India (just to give you both a few ideas).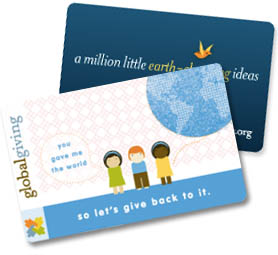 Shipping is also free on these biodegradable gift cards, but be sure to order by tomorrow, May 3, if you want to ensure Mother's Day delivery.

Thanks for your generosity,
Alison Carlman and the GlobalGiving Team