Dear
<<First Name>>
,
Mother's Day is less than two weeks away
. Do you know what you're getting for your mom yet? Instead of a bouquet of flowers, we think
a kind, compassionate mom like yours deserves something just as unique as she is.
That's why we're positive she'd love one of our Gifts for Good for Mother's Day.
When you make an earth-changing donation to select projects on GlobalGiving, you'll get one of these great Mother's Day gifts to go along with it! No strings attached. Not even a charge for shipping! (And who doesn't love free shipping?)
Here are some of our favorite gifts
that are perfect for any mom, including...
Hurry, though -- you'll need to order that gift today if you'd like it to arrive before May 13! (Your future self will be so pleased that you've taken care of it already.)



Think mom might prefer to pick out her own gift? (You've always thought she had such great taste, anyway.) With the gift of a GlobalGiving gift card, your mom can choose her favorite charity project to support.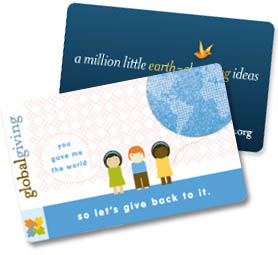 Together, you can help save a mother's life after childbirth, feed the hungry, build houses, train women (and men) with job skills, or support hundreds of other amazing causes.
Shipping is free on our biodegradable gift cards
-
be sure to order by tomorrow, May 2,
if you want to ensure Mother's Day delivery.

What do you think; better than a bouquet of flowers? We think so, and so does
this guy
.
Warmly,
Alison Carlman and the GlobalGiving team