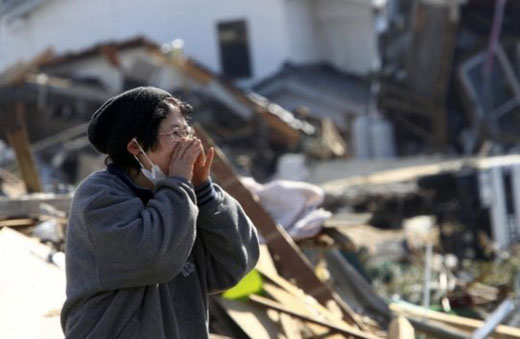 Its hard to believe that it's been over a month since the earthquake and tsunami that took 11,000 lives in Japan. Thousands remain missing, and more than 170,000 people are living in evacuation centers where they are still relying on the Japanese government and aid organizations for basic necessities and medical support. Fuel shortages and cold temperatures have exacerbated the situation, and there continues to be a genuine threat of nuclear contamination to the air, food, and water.

To date, GlobalGiving and GlobalGiving UK have disbursed more than $3 million to 14 organizations: Architecture for Humanity, Association of Medical Doctors of Asia (AMDA), Association for Aid and Relief (AAR), Civic Force, International Medical Corps, Japan Platform, Japanese Emergency NGOs (JEN), Lifeline Energy, Mercy Corps, Peace Winds, Save the Children, Shelter Box, Shine Humanity, and Telecom for Basic Human Needs (BHN).

While GlobalGiving's partners continue to provide basic necessities such as food, fuel, and medical care, organizations have also begun to address the ongoing and future needs of those affected by the disaster:
Civic Force has partnered with local carpenters to build bathhouses, making it possible for individuals who have gone weeks without bathing to wash;
JEN staff and volunteers are removing sludge from public buildings and homes;
Peace Winds and Mercy Corps have teamed up to train caregivers to help children through the trauma of disaster;
AMDA has organized movies and sports events and provided exercise equipment to alleviate boredom and restlessness in evacuation centers; and
The International Medical Corps has partnered with local organizations to provide telephone counseling and training in psychological first aid.
Many of our partners have begun to develop long-term plans for recovery. Architecture for Humanity is committed to the physical rebuilding of communities, while Telecom for Basic Human Needs has developed a plan for reestablishing radio infrastructure in collaboration with Japan Platform. Others plan to provide long-term psycho-social and livelihood support to help impacted communities get back on their feet.

Most of these organizations have posted their own projects on GlobalGiving's site. If you are inclined to provide additional support, we encourage you to do so by supporting the project that resonates with you most. You can view these Japan relief projects on GlobalGiving.org and GlobalGiving.co.uk.

Over the next six to eight weeks, GlobalGiving expects to continue to receive significant funds from corporate matching campaigns, cause-marketing promotions, and individual donors. On our blog you can read more about how GlobalGiving's corporate partners are contributing. In addition, GlobalGiving UK's partnership with JustGiving continues to provide an easy way for individuals and corporations to fundraise for disaster relief projects. Ocado, the home delivery company, used JustGiving's platform to raise £200,000 from staff and customers for Mercy Corps' project on GlobalGiving.

These additional funds will make it possible for GlobalGiving to continue to support intermediate and long-term recovery efforts. We will continue to update you via email, although probably a little less frequently going forward. For more up-to-date info on our work, please follow us on Twitter (@GlobalGiving) or "like" our Facebook Page. In addition, you can read updates from our partners on GlobalGiving's "Updates from Japan" page.

Thank you again for your support,
Britt Lake and the GlobalGiving Team