Dear Advisory Board Members,

The GlobalGiving office is filled with the sounds of the holiday season: Business Development team members fulfilling corporate partner gift card orders; Project team members fielding calls from some of our 200+ organizations competing in the December Open Challenge; Tech team members high-fiving after adding yet another exciting feature to our website; and our Operations team banging our office gong in celebration of another major donation.

Looking across our office, the energy and excitement of our staff is invigorating. That enthusiasm has been a crucial factor in GlobalGiving's amazing success and sustainability. As I mentioned earlier this year, in 2010 we are projecting to cover at least 70% of our costs (up from 35% in 2009), and I'm confident with less than a month to go, we will reach that target. That puts us well on track to meeting our goal of obtaining operational self-sufficiency by 2013/14. And I wanted to share with you three core drivers of our growth in 2010.


---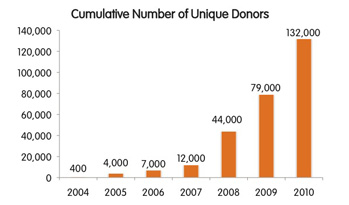 Converting Qualified Traffic
The number of visitors to our site has increased dramatically over the past few years (a 79% increase between 2007 and 2010) as well as our conversion rates (from 0.9% in 2007 to 4.3% in 2010). Currently, more than 125,000 donors have contributed to projects through our platform and this year alone we expect to process more than $22 in donations which will push our all-time donation volume to nearly $47 million.


---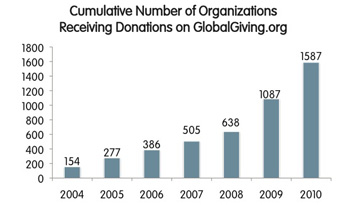 Increasing Access to Our Platform
We have seen robust growth in organizations joining and accessing the GlobalGiving platform through our open access challenges. More than ten times as many organizations have received support through GlobalGiving donors through 2010 than in 2004 (154 in 2004 compared to 1,587 in 2010). Our September challenge raised over $400,000 (our biggest challenge yet!) and our December challenge, with over 230 competing organizations, promises to break that record.


---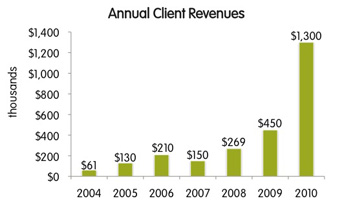 Expanding Corporate Partnerships
We have been able to leverage our core competence around sourcing, vetting, and monitoring projects to prove our value-add to the corporate world. We are excited to build relationships with our new partnerships: Pepsi, Cummins, Eli Lily, Neutrogena, Ford, and Brown-Foreman. Over the past six years, we have increased our revenue from advisory services by more than 21x ($61K in 2004 compared to $1.3M in 2010). I am proud to see our BD team become a powerful engine of growth for GG.


---




Your support is an invaluable component to our success. As we move into 2011, we have identified three key areas where your knowledge and networks would be greatly appreciated.

Capital Funders - Reinforcing Connections
We're looking for some new funders to help us close the 20% gap we project for next year. We've initiated conversations with Gates, Heron, NoVo, and Mott--any opportunities you might have to reinforce messages and deepen our connections with them would be very helpful.

Closing Deals
We're excited about the new business with Cummins, and would love to expand to more manufacturing companies. Some we have not yet met with are Caterpillar, GE, United Technologies, and Bunge. And of course any company you think might be a fit for us, please send them our way.

Spreading the World
If you are looking for a great way to share the fun of GlobalGiving this holiday consider our gift cards. The gift cards are a great way to create a family giving experience. You can pick your favorite card and your recipients can their favorite projects. My personal favorite is the "Spread Joy" card.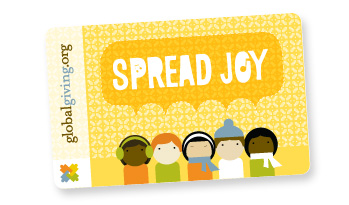 Thank you for the advice, counsel, and support have you shared over the past year. We couldn't change the world without you.

Wishing you a joyful holiday,
Mari Kuraishi

The world is full of problems. GlobalGiving.org is full of solutions.
1023 15th Street, NW, 12th Floor, Washington, DC 20005, USA - 202-232-5784 - contact us