Want your gift cards home for the holidays? Order one of our biodegradable gift cards no later than Sunday, December 12 to ensure you receive them before December 25.

Our free standard shipping offer lasts through December 31, but orders placed after December 12 may or not reach you in time. Rushing reindeer options are available for an additional fee, but we'd prefer you receive free shipping. What are you waiting for - slow and steady won't win this race! Run, run Rudolph!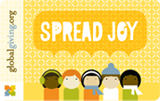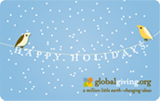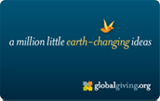 It's easy to get wrapped up in the hype of the holiday season - shopping, parties, baking. We like those things too, but it's important to remember the true meaning of the season.

Year after year, we hear stories from families who create a giving experience with GlobalGiving gift cards. They're perfect for adults and children because everyone can find a project that they love. We'd be honored to be a part of your holiday celebrations and learn about your family's stories and experiences of giving together.





Wishing you a happy and warm holiday season,
Mari Kuraishi and the GlobalGiving Team