Ready to join the largest global crowdfunding community for nonprofits?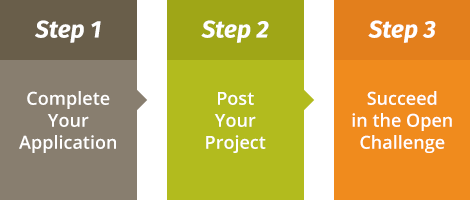 Is your organization a registered charity, nonprofit, or NGO that is implementing programs?

Can you provide

organizational documents

in English? (Google translations

are ok

!)

Can your organization mobilize enough online supporters to raise at least US$5,000 from 40 people?

If you answered yes to the three question above, then let's get started!
GlobalGiving partners raised more than $32 million last year. Are you ready to join them?
Joining GlobalGiving is easy and takes two steps:
Submit an application! By vetting each of our partners, we can confidently tell our corporate and individual donors that they are giving to verified charities. See the list of documents that you will be asked to submit.
Succeed in an Open Challenge - test your crowdfunding skills with your first GlobalGiving campaign! Organizations that raise at least US$5,000 from 40 unique donors will become permanent GlobalGiving partners.
Your time is valuable so before you begin the application, we have a few questions to see if we are a good match for each other:
Sorry, but GlobalGiving can only work with registered organizations that can provide organizational documents in English and who want to use online tools to mobilize their supporters.
However, let's keep in contact! As your organization grows you may find GlobalGiving is right for you. We would love to work with you in the future.
---

Why GlobalGiving?
A Growing Network of Individual Donors
GlobalGiving has a growing network of supporters around the world, and we connect these individual donors to the amazing organizations that are a part of our community.
Corporate Partners that Can Connect with Your Projects
GlobalGiving works with more than 60 major corporations like Microsoft, Nike, and Dell to facilitate donations and grants to nonprofit partners. In 2014, 98% of GlobalGiving partners received funding through a corporate partnership.
Trainings & Support that Facilitate Your Success

GlobalGiving provides free trainings and 1-on-1 support specifically designed to help you succeed in online fundraising.
Campaigns & Contests That Mobilize Your Supporters
Every year, GlobalGiving hosts numerous large-scale fundraising campaigns that help you plan your fundraising calendar and engage your donors in new ways. During these campaigns, we offer bonus prizes and matching funds to help motivate donors!

What is GlobalGiving?
GlobalGiving is the first and largest global crowdfunding community for nonprofits. We make it possible for nonprofits of all types and sizes, from anywhere in the world, to access the funding, tools, training, and support they need to make our world a better place. Because GlobalGiving is trusted by donors of all sizes, all around the world, we channel more extra funding to nonprofits than any other crowdfunding platform. Since 2002, GlobalGiving has raised nearly 180 million USD for the projects that are a part of our community.
GlobalGiving is a top-rated nonprofit, and our trusted reputation is highly valued by donors, corporate partners, and nonprofits across the globe.
GlobalGiving makes it possible for you to accept donations from nearly any country in the world, and donations made from the US and UK are eligible for tax benefits through GlobalGiving. We'll handle all donor tax receipts, making less work for you!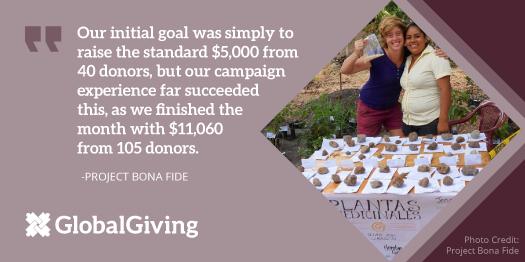 Millions of dollars in additional funding for our partners
GlobalGiving retains 15% of donations made through our platform. This fee not only covers the basics like credit card, PayPal, text-to-give, and money transfer fees, but it also allows us to provide the programs, services, and partnerships that help our nonprofit partners raise more money and use it more effectively.
In 2014, the typical nonprofit on GlobalGiving did not lose any money to our fees. How is that possible?
GlobalGiving actively works to drive additional funding to the projects that are a part of our community. Last year, we drove an additional $6.25 million to our nonprofit partners, beyond what these nonprofits brought in through their own fundraising efforts and networks.
For the majority of organizations, those GlobalGiving-driven funds more than made up for our 15% fee. It's like our nonprofit partners were paid to fundraise on GlobalGiving!