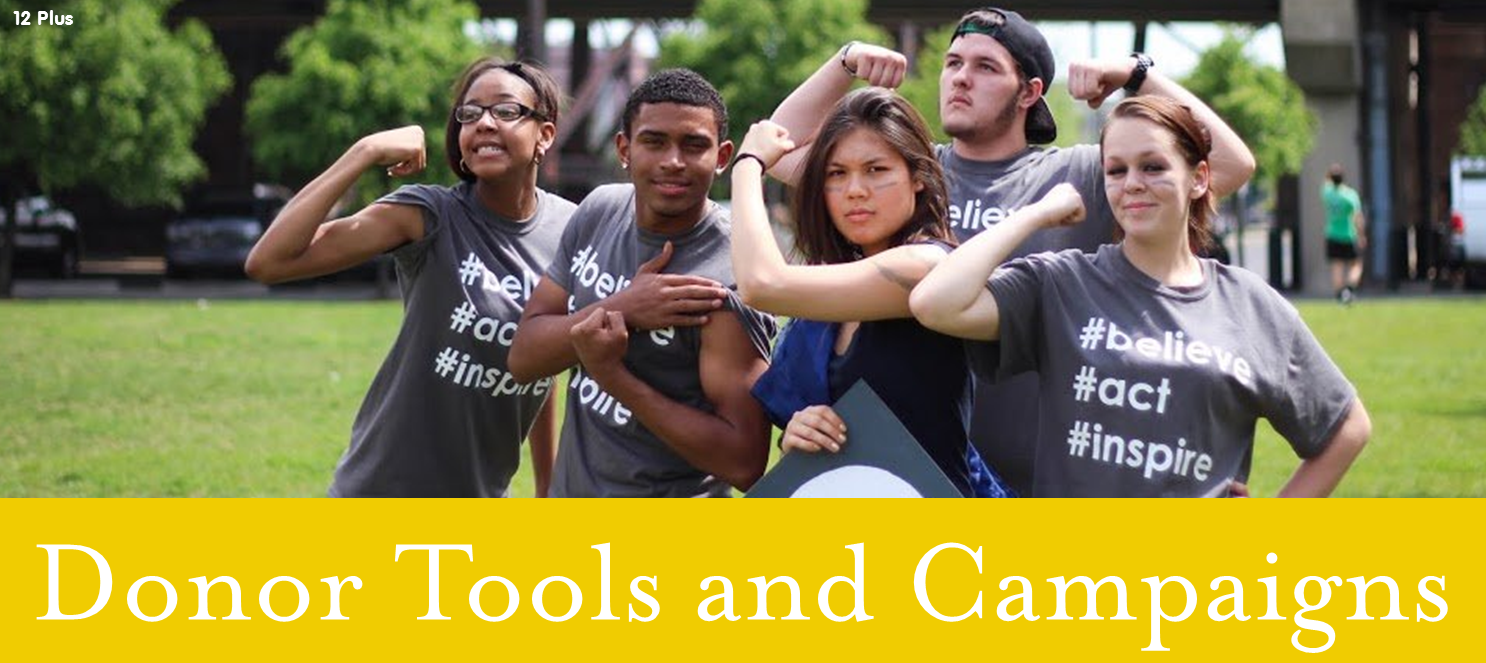 Matching Campaigns
Get more bang for your buck with bonus days and matching funds!
Matching campaigns are an effective fundraising tool because the matching money and the urgent deadline motivate donors to give at times of the year when they may not otherwise donate. GlobalGiving hosts several matching days each year using funds from expired gift cards and corporate partnerships to offer thousands of dollars in matching funds to partner organizations on the site.
Bonus Days are one-day campaigns, where GlobalGiving offers matching (usually 30 – 50%) on donations up to a certain threshold as long matching funds last. We offer bonus awards for the most money raised and the most individual donors to create a sense of competition which spurs donors to give more.
Keep an eye on the Tools & Training blog for announcements about upcoming Bonus Days and specific terms and conditions for each campaign.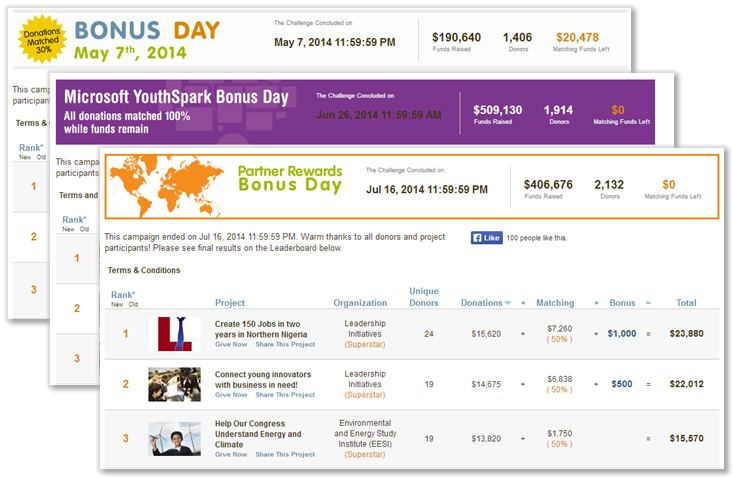 Tribute Cards
Your donors can buy tribute cards for birthdays, weddings and holidays to support your projects.
GlobalGiving makes it possible for your donors to make a donation to your project as a gift or in honor of someone special. This is a great way to promote giving to your organization for holidays, birthdays, and special occasions! We will send a beautiful personalized card straight to the gift recipient's home (or email inbox). Tribute cards are available by email, print-at-home, and snail mail and you can choose between several different designs, including a design customized for your project!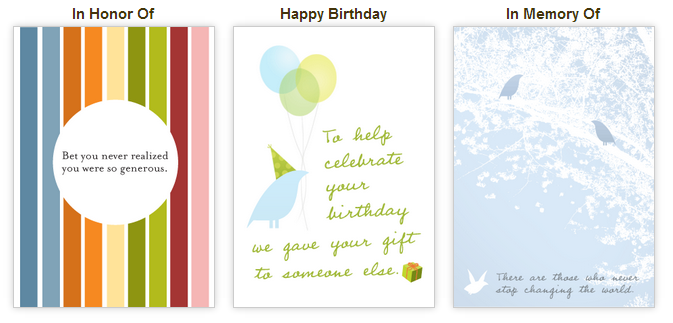 Fundraisers
Your donors can share their passion for your work and become your partners in fundraising.
GlobalGiving makes it easy for you to turn your organization's supporters into active advocates. Supporters can use fundraisers to set their own fundraising goals and reach out to their own networks on your behalf! Here's an article sharing successful fundraiser case studies that you can share with donors you think might want to make a fundraiser supporting one of your projects! Learn how to create a fundraiser.
GlobalGiving fundraisers are great for any occasion — a wedding, birthday, or anniversary — or simply to generate support for projects like yours. Like a gift registry at Target or Bed Bath & Beyond, the registry-maker chooses what projects they would like to support for their special occasion. They can then reach out to family and friends with the link, driving traffic to your project page.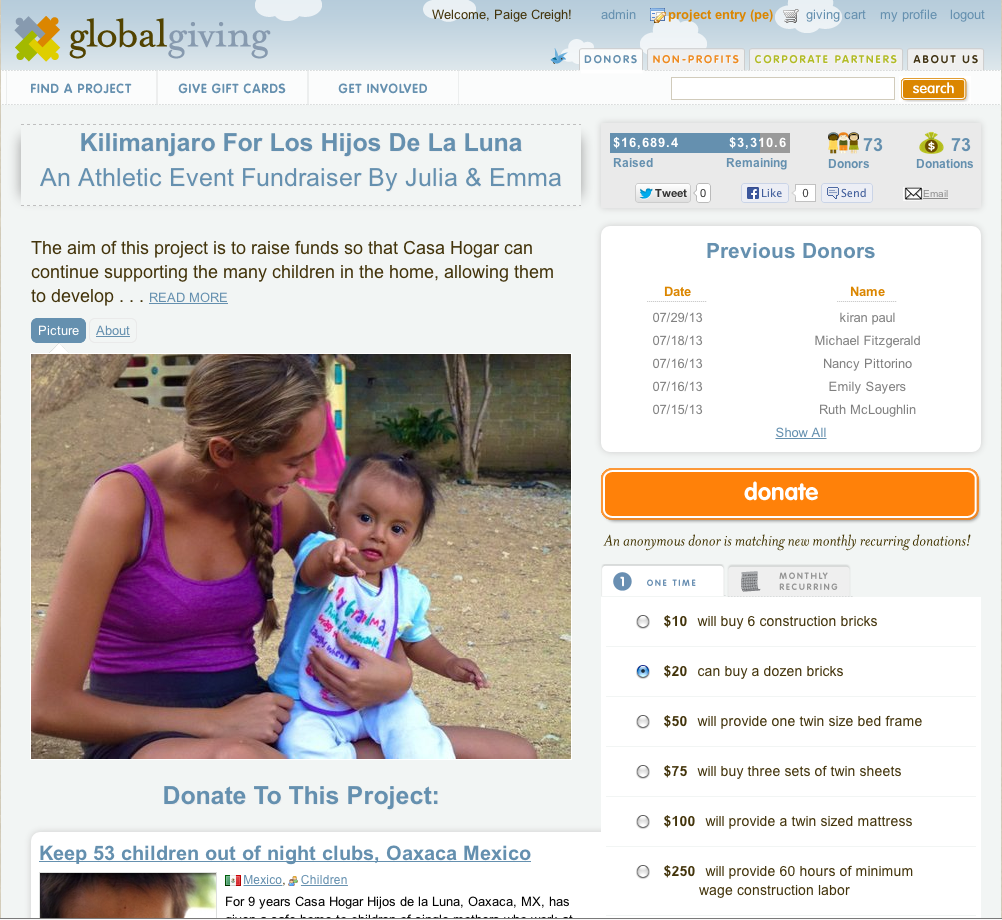 Recurring Donations
Secure consistent and reliable income.
GlobalGiving makes it easy for your supporters to make monthly, recurring donations using their credit card. By signing up for a recurring donation, GlobalGiving deducts the donation amount from the donor's credit card every month. Learn how to set up a recurring donation. Not only are recurring donations hassle free for your donors, but they provide your organization with a consistent, reliable, and long-term source of income.
Tips for setting up a recurring donation:
Target outreach to your existing donors. Focus your outreach on individuals who have supported your organization before with their time or a donation.
Make it easy for your donors to sign up. You can link directly to the recurring donation option on your project page by adding "?show=recurring" to the end of your project URL. Find the complete link under the Share tab on your project.
Connect donors' recurring donations to your work on the ground. Give donors concrete examples of how their donations will be used on a monthly basis.
Emphasize the value of recurring donations to your organization. Let your donors know that recurring donations are a predictable stream of income for your organization and they make it easier to plan financially for the year. Consider explaining why $25/month is more valuable than a $240 one-time donation.
Say a big thank you for a bigger commitment. Consider recognizing your recurring donors in a special way by featuring them on your organization's website, sending them special updates, or giving away a small gift. Get creative! What can you do to recognize recurring donors?
To learn more about how to increase your recurring donations, listen to this webinar hosted by a fellow Project Leader.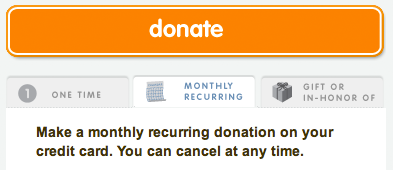 Widgets
Leverage your website to drive donation activity.
Promote your project on your organization's website or blog using GlobalGiving's widget. Just copy and paste the code provided on your project page under the Share tab into your website coding. One click takes donors directly to your project page so they can donate immediately.