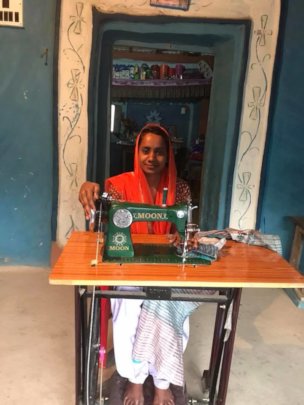 Dear Friends,
Greetings from Azad India Foundation!
It is my pleasure to share our latest report via GlobalGiving on the progress of our project to provide sewing machine to a needy girl for self-reliance in Kishanganj district of Bihar. Thank you for your support and for empowering girls to rise out of poverty.
As part of the ongoing flood victims rehabilitation and livelihood support program, Azad India Foundation had given sewing machines to Asma from the village Shafakatnagar, Hadisa from Rahmatpur, Shabnam from Kajlamani, Astana from Sathbolia and Mehnaz from the village Malbasti whose houses were damaged in the floods just two months back. We revisited these girls in their homes to see the impact on their lives.
We were pleasantly surprised to see that they are working very hard and changes were visible in them. They had become confident and were able to articulate their thoughts clearly. Further discussions with them and their family members reveal that they family incomes have improved considerably post floods.
Astana's father told us that she is earning Rs 2000 – 2500 per month out of which she is saving almost Rs 1000.Mehnaz also gets work from her village and near by market and is making Rs 100-150 per day. Shabnam from Kajlamani has started earning between Rs 1000-1500 per month. Hadisa is saving Rs 500 per month while taking care of her family.
The machines have turned them entrepreneurs with plans to expand their reach to other villages. Some of them are buying clothes in bulk and offering tailoring services along with the fabric in the villages.They knew their goals and working towards them.
The girls are thankful to the donors and GlobalGiving for helping their families when they require the most.
Azad India Foundation is running two sewing centers at the village Chattargach and Kishanganj where 40 girls are learning basic stitching and tailoring. It is six-month course following which a girl can start earning from her home. As most of the girls belong to marginalized sections of the community they are unable to buy machines. This project helps them to realize their dreams.
Thank you for giving chance to succeed! Your gift is making a big impact in not only their life but given hope others as well.
Do contribute to help us give life of dignity to more disadvantaged girls and please spread the word.
Please feel free to contact me with any questions, comments or id yuman_azad@yahoo.com
Warm Regards,