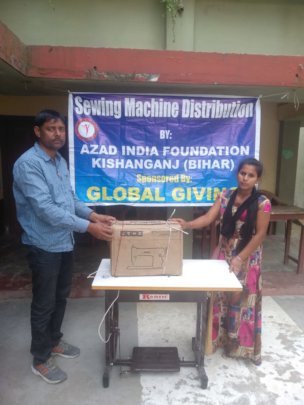 Dear Friends,
Greetings from Azad India Foundation!
It is my pleasure to share our latest report via Global Giving on the progress of our project to provide sewing machine to a needy girl for self-reliance in Kishanganj district of Bihar. Thank you for your support and for empowering girls to rise out of poverty. A sewing machine may be a simple gift but it is life changing for many girls and their families.
As a part of the ongoing livelihood support program, Azad India Foundation gave away sewing machine to Mosami from village Bhotathana.Her father is a small farmer who earns around Rs 5000 ($80) for a family of 6 members. Mosami completed basic cutting and stitching course from the AIF stitching center. Due to financial constraint she was not able to buy machine on her own. She is now hopeful that with her new sewing machine she will be able to earn decent money and support her father.
Previously ,AIF had given sewing machines to Shabnam from Kajlamoni and Rina from Paschimpally under Kishanganj municipal area. These girls had completed 6 months basic stitching and tailoring course from AIF stitching center.
The project team revisited these girls at their homes to see the impact of the donation. Today they are working from their home. Rina is earning around Rs. 6000 ($82) per month and able to save small amounts. Shabnam is earing around Rs.7000- 8000 ($80-100) from the work she gets from the tailors from the main market. She is supporting her family and pays for the education of her younger sister.
The girls are thankful to the donors and Global Giving for their support.
Azad India Foundation is running two sewing centers at the village Chattargach and Kishanganj where 40 girls are learning basic stitching and tailoring. It is six-month course following which a girl can start earning from her home. As most of the girls belong to marginalized sections of the community they are unable to buy machines. This project helps them to realize their dreams.
Thank you for giving chance to succeed! Your gift is making a big impact in not only their life but given hope others as well. Even a small donation has a potential to empower the whole family to earn sustainable income.
Do contribute to help us give life of dignity to more disadvantaged girls and please spread the word.
Please feel free to contact me with any questions, comments
yuman_azad@yahoo.com
Warm Regards,