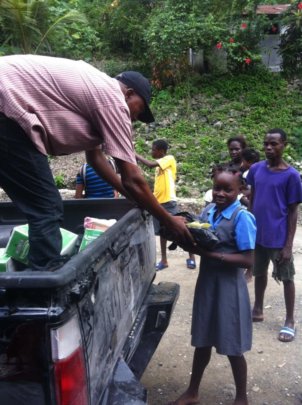 An exciting fall term will soon be moving into a New Year. These months continue to bring the change, the growth and the path to a new future that your support makes possible. The schooling is not only resulting in the children and youth gaining knowledge and new found competence, but remarkable increases in self-esteem and confidence, positive behaviours and attitudes.
Just before the fall term began, our Outreach Workers were busy distributing school supplies, uniforms, shoes, and all the other necessities in the 21 communities that our children's families live in (photo attached). Because of YOU, 247 children and youth were able to be registered and are attending school right now. Because YOU are a part of our team, your generosity and care is in action each day.
This school year we have made schooling changes in Les Cayes area and have a number of our children attend a larger school providing more behavioural structure and academic challenge. For the first time, we also have children enrolled in an ACEs school program. This school's core curriculum offers modular learning so children progress at their own pace. It is based on English immersion, problem solving, character and social values, goal setting, etc. (photos attached)
Thanks to you, children also have the added support of tutoring and summer classes resulting in exciting test marks and great report cards (photo attached) … building on the confidence and further dedication to their school work!
Along with having an All Staff Meeting, including our Outreach Workers that work with our families north of Les Cayes, we celebrated the 4th Anniversary of Little Footprints Big Steps and recognized the huge steps that had taken place since November 2011 when two young women felt compelled to co-found this organization and activate a whole new approach of working with Haiti's vulnerable (photo attached). Dignity. Self-sufficiency. Empowerment. Attached is a photo of the staff that are dedicated to continuing that work, and the co-founder/Head of Haitian Operations, Morgan Wienberg.
News of recognition of that work recently came from the office of the Governor General of Canada. Morgan will be awarded the Meritorious Service Cross Medal. This medal recognizes "outstanding accomplishment and uncommonly high standards that sets an example for others to follow". What a strong commendation for the work that has been accomplished on the ground and the inspiration for those near and far.
And thanks to each of YOU for believing that the past does not have to mirror the present and future for the determined children and youth that Little Footprints Big Steps works with.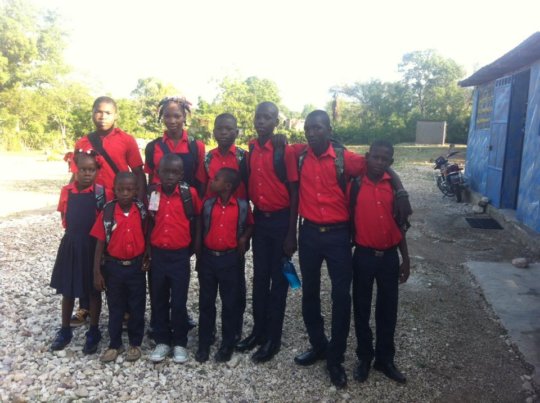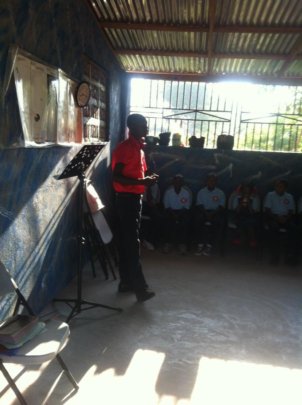 Links: