Another amazing school year will soon come to an end for the children and youth in Little Footprints Big Steps programs ... all 300+ whose report cards we receive!
Imagine, in the poorest country in the Western Hemisphere, the cost of even a basic education is so high it is unreachable for most. Registration fees (there is NO public schooling), uniforms (required), shoes, undies/socks, school supplies, tutors (to supplement the half day school classes promoting opportunity for success), transport (there are NO school buses and many families live in very rural areas) are all well beyond the reach of the majority. YOU are making this possible. YOU are part of changing the cycle of poverty by making this happen.
Through the recent times of extreme rains and storms, of resurgence of violence, these children have been able to hold onto their pride of personal growth and learning, continue to practice, to have something that cannot be taken away from them – their education! Individual students continue to make huge steps on their path.
Wilguerson is going to two schools and excelling at both - English school 8am - noon; classic school 1pm - 5pm! Israel Renaudin remains the #1 student in his class (every month this school year, except for November, when he was 2nd) and is hoping to be able to undertake English studies through summer school. Kenzie has worked hard to stay top student in his class and is also eager to carry on learning in summer school. As we receive report cards for each student we support, through your assistance, we are continuously amazed and so proud of all of these children who have over-come so much and have met the opportunity for an education with enthusiasm and diligence.
We will be hosting a workshop for some of our youth focused on Leadership, Personal Finance and Personal Development. The innovative and inspiring Haitian that has designed and will be delivering this workshop focuses on overcoming obstacles and leadership through learning and practical activities. This summer we will have a visiting volunteer working on special art therapy projects, a mural, environmental awareness campaigns and projects as well as another focusing on staff training and leadership building skills. We hope to be able to enroll some of the children in summer school and recreational activities through your support. This continuity of learning and interactions is so important to establishing the changes in thought, outlook, confidence and health. Let's make that a part of this summer!
Education at many levels! Our employees, and even some of our youth, work with local authorities in executing a Community Outreach Abuse Prevention and Child and Women Rights Campaign with trainings focussed on prevention of violence and sexual abuse (photo attached). In several communities in Haiti's south, these informative sessions are provided to school classes as well as at 'town hall' sessions for community leaders and the general community population. At our Girls Safehouse, we also host sessions to explore women's health and well-being discussions. We are also active partners in a larger group on deinstitutionalization meeting regularly in Port au Prince to discuss the shift from orphanages/ institutionalization to family and community based approaches, and key members of our Haitian team participated in a training led by LUMOS organization regarding preparation for family reunification (photo attached) . LFBS has been invited to join a network of local authorities and organizations focussing on preparedness and disaster relief efforts in preparation for hurricane season. Collaboration and partnership is key. We are able to achieve an ever increasing level of impact, while still maintaining very personal contact with the children.
Little Footprints Big Steps vision and focus are to empower locals and the sustainability of the learning and collaboration at all levels. We recognize and value the importance of reconnecting Haitian families, of changing the mentality and situation of youth as well as entire communities, of building up local authorities' capacity, of teaching Haitians to invest in and help each other, or empowering youth and parents to seek sustainability.
Inspiring and sharing far and wide. As noted in our previous report, Morgan Wienberg, LFBS founder and Head of Haiti Operations, work was recognized by the Government of Canada with the Meritorious Service Cross Medal. The photo below shows her receiving this incredible honor from the Governor General. Before returning to Haiti, Morgan traveled to New Delhi, India as a delegate and presenter at the Udayan Care International Conference. She shared our program and service model in her presentation "Emotional Preparation to Transition Vulnerable Youth into Socially Responsible Youth" to an enthusiastic audience and was voted best poster presentation at the event.
For more photos, Blogs, videos, media interviews, please visit our website at www.littlefootprintsbigsteps.com.
To view a terrific recent interview with Miami TV host/reporter James Pierre.
https://www.youtube.com/watch?v=C1VMeKKTxkM&feature=youtu.be
Imagine the impacts, today and into the future, near and far, that your partnership with Little Footprints Big Steps is enabling! YOU are a critical part of that. Please share with your friends.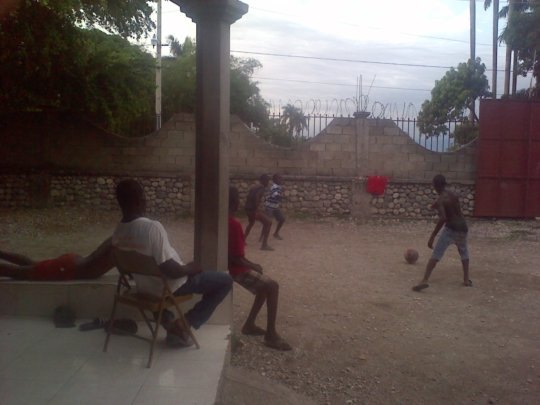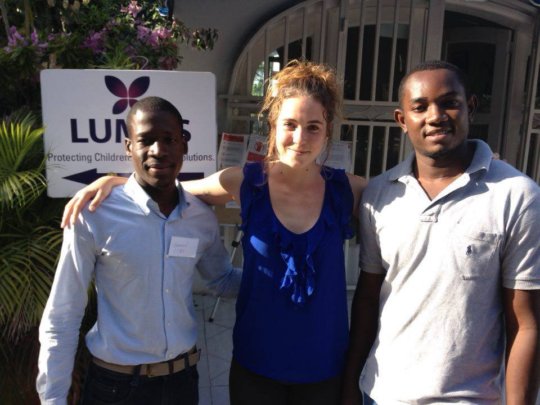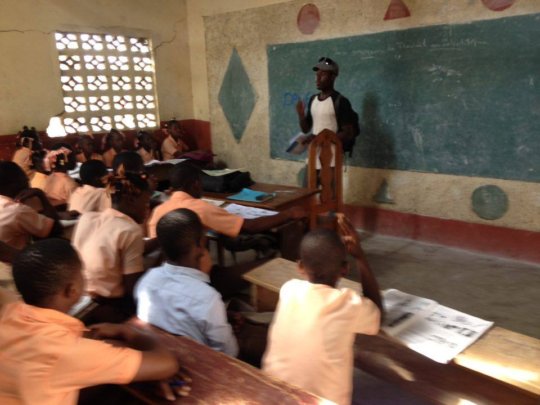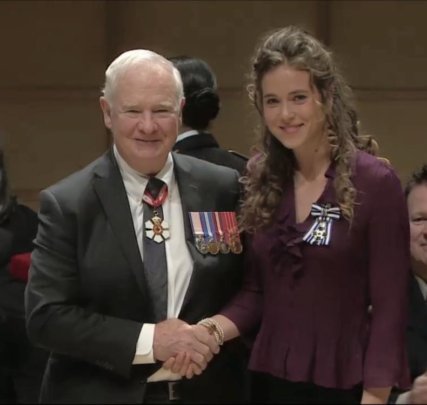 Links: