January has been a busy month again for our wildlife orphanage! We welcomed 5 new babies, four squirrels and one klipspringer.
The DAKTARI team was first raising the 4 squirrels: Tracy, Morris, Wildy and Lana. These little babies fell from their nest earlier than they should. Some volunteers took care of them and they are now enjoying a big enclosure before we release them. Supervised by the team, the children get to help syringe feeding Tracy, Morris, Wildy and Lana, the little playful squirrel gang.
Mid January, a neighbouring farm found a baby klipspringer alone. We named him Barney and have been taking care of him since he arrived. This cute baby is now exploring his house and garden and loves climbing on the rocks.
Children that come to DAKTARI every week have little knowledge about their natural environment and the beautiful wild animals that live around them. By seeing and touching the animals, the children realise their importance for the environment and the need to protect them. This way, the kids get a personal experience with different animals, who become their teachers, showing them the importance of respecting and protecting the natural environment. And the personal bond between the children and the animals is one that will last a lifetime.
We are happy to report that Martin is doing very well!
We try to keep him active by stimulating him with his food. In December, we gave a Christmas present to Martin. In it we hid pieces of meat and put the present in the middle of the enclosure.
We were very surprised by his reaction, because he was so interested in this present. First he lay down to unwrap the gift and discover what was inside. And then Martin took the box and went behind trees to eat peacefully and destroy the rest of the present.
Once again he was a very happy cheetah with his Christmas present!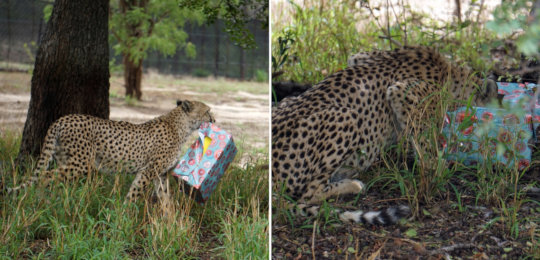 2018 was again a busy year for us!
We welcomed 172 international volunteers coming from all over the world to teach our local children. In the meantime, 333 kids came to DAKTARI to learn about environment and care about their wildlife.
In December we welcomed our last group of children with a Christmas spirit. Like every year, the kids and the volunteers decorated the Christmas tree and the lapa. Even the dogs joined the party!
We hope 2019 is going to be even more busy: more projects, more volunteers, more exciting news! And of course, with all of you by our side!!!
WARNING: Javascript is currently disabled or is not available in your browser. GlobalGiving makes extensive use of Javascript and will not function properly with Javascript disabled.
Please enable Javascript
and refresh this page.