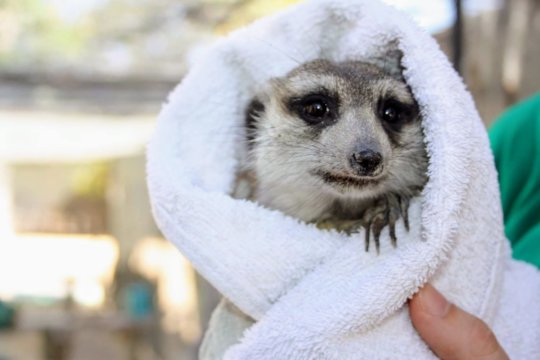 The DAKTARI Team recently said goodbye to the Meerkat family. Twelve of their meerkats left DAKTARI to be rehabilitated. Only Gasper and Tikki stayed behind because they are quite old and have lost some of their teeth.
Gasper was the first to arrive at DAKTARI in 2010, followed by Tikki (2011) and Madonna (2014). The family then grew with Madonna's three babies in November 2014: Porthos, Athas, and Aramis. In 2017, Colo, Tschumi, and Jess joined the meerkat family followed by Jess' three babies.
Eeyore the donkey is going to miss his butt scratching buddies and the staff will miss running after them when they escape! Although we were very sad to see them go; we are delighted to know that they will be back in their natural habitat soon enough.
Johnson and Beth, the animal care team, also improved the Gasper and Tikki enclosure with enrichment. Our two meerkats have now a big and beautiful with big branches and aloe to play and jump.
They also said goodbye to Chimoya, the baby buffalo. She arrived in March and has grown up with Tango and Tony, the baby sable antelope. She returned to the neighbouring farm where she is from to join her buffalo family and live in the wild.
Like all DAKTARI animals, the meerkat family and Chimoya were ambassadors of DAKTARI and played a large role in the children's education about the environment. Twice per day, the children assist our volunteers and staff with animal feeding and care. This is the opportunity for the children to see an animal up close and get familiar with them!