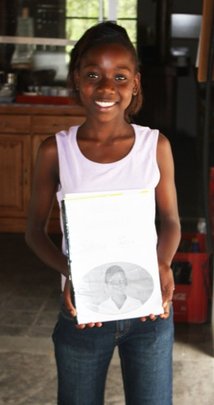 I only started end of last year with our Outreach project and I already have students who have benefitted from this programme. The students in the eco club are eager to learn and to develop themselves. They work hard and take their club very serious. Their level of English is improving really fast, since the classes are in English. Thanks to your donations all of this is possible!
I would like to introduce you to some of the members in the eco club, so you get an idea who you are helping with your donations.
Meet our youngest member; Edna, she came to Daktari in the beginning of this year. She immediately fell in love with Daktari, the animals and working with the volunteers. She had the opportunity to visit Khamai, the Reptile Park, with us and she was sooooo scared, but she paid attention and made notes. The following meeting she had to get up and speak in front of the whole club to tell everybody about her experience and what she learned… she didn't want to, as she was too scared, but after a little talk and some extra encouragement, she did it! You should see the growth in confidence! The other members support her as well, which is amazing to see.
At the end of the meeting I told everybody that we got a book donated for the whole club to use, they were so excited. I told them that for each meeting I want two students to prepare a little short lesson to share information from the book with the others, everybody agreed. I asked who wanted to go first and to everybody's surprise it was Edna who offered to go first! Yeah she learned a lot already!
Brian is the vice chairperson of Ramatau Eco Club. He is now in grade 10! When he came to Daktari two years ago we already knew he had some potential. After his visit to Makalali Game Reserve, which we do every Wednesday with the children, we always ask what they want to be if they could choose a job at Makalali…. Most kids answer chef, ranger, tracker, mechanic, maybe even camp manager… but Brian had other plans… he wants to OWN Makalali! Now after two years he still has this amazing drive! He is clever, but sometimes has some trouble focussing. He is a real teenager, but you can have a lot of fun with him. When he concentrates, he is a smart guy and hopefully some of you can stay in his lodge in a couple of years J
Oh were to start the story of Grace. She came to Daktari about a year ago. She just moved into Metz and Ramatau was a new school for her. She came from Durban, because she was speaking another language she didn't have a lot of friends. Her English was perfect, better than most foreign volunteers, but that gave the image at her new school that she was too good to speak Sepedi (the local language). Luckily she is a girl that doesn't give up easily, she fights for herself but stays polite. She immediately joined the Eco Club and started to make friends in this club. Now they stick up for her and they ask her for her help. She was even elected as a chairperson this year by the club members! She is clever and has so much charm that everybody falls in love with her, the volunteers, the teachers at school but also all the boys…. She has so much potential; she will definitely make it with the right opportunities and a little back up from Daktari!
Maite is 16 years old and in grade 11. She is the treasurer of Ramatau Eco Club and takes her job very serious. She takes notes and makes sure everybody pays their contribution. She makes sure that all the members take the club serious. Maite comes across as tough, but deep inside she is just an insecure teenager, like the others. She gives has great ambitions, she still doubts between becoming an auditor or a field guide. She has time to figure this out, but is clever enough to make it. She takes charge when needed and is not scared to speak up. But when you ask her to hold a presentation in front of the class she all of a sudden is very nervous, the same when she is doing here work for Daktari, extra lessons or lessons for the club, she is always nervous to make a mistake…. She needs some positive reinforcement so she can grow even further.
Mbhaxeni is 17 years old and in grade 9. He is a bit shy but tries very hard to overcome his shyness, for example in participating in the competition for Mister Ramatau 2012. Sadly he lost from Evans, another club member. Mbhaxeni is a member from the start; he wants to learn new things and is serious in his schoolwork. He has one real passion though…. He wants to be an architect! He has a whole book full of drawings, very detailed, so amazing. He already contacted a architect in the area and asked him for advice, but the only advice he gets is that the next step is to start practicing on a computer, since nowadays everybody uses programmes for drawing …… that's going to be a mission. Hopefully he will have his computer / laptop in the future with the right program, because I believe in his talent, he can make it!
I spoke about Kutullo in my last report, the youngster who wanted to work at Khamai after our visit. Well, we arranged an interview for him and he got the job! I'm so proud of him.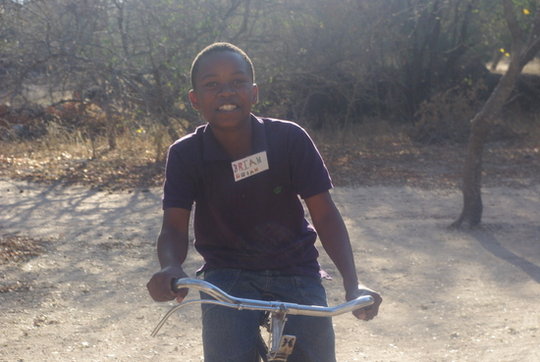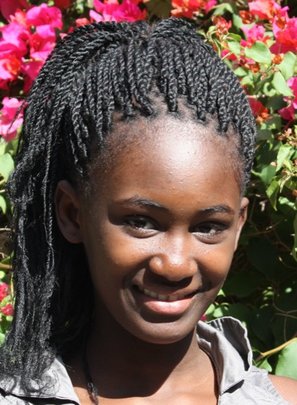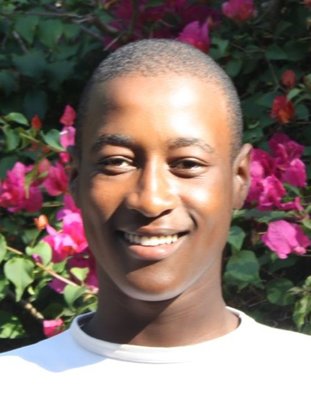 Links: