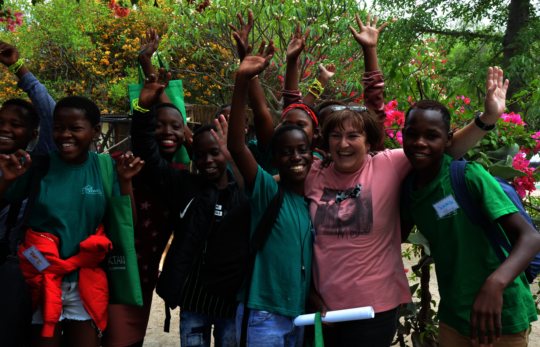 On December 3, we took part in the #GivingTuesday campaign to raise funds for our Environmental Education program. Thank you to all of you who believe in our cause.
With the funds we have raised, we are able to make a bigger impact in the lives of African children and keep improving the program.
Here is a highlight a few of the evolvements of our onsite teaching program.
There is more hands-on teaching methods that the children and volunteers enjoy more. As an example, the Wildlife crime lessons take place in the bush under the shade of a tree. We find greater interaction between children and volunteers takes place.
We have included swimming lessons to highlight the need to learn this skill. Statistics of drownings in South Africa are very high.This is also a fun activity that children really love. We completed a total revamp of the swimming pool with its scenic views of the African bush.
The weekly movie is now an outdoor theatre where a variety of wildlife documentaries are screened as a curtain raiser to the main movie.
We have also constructed two vulture hides where each week the children and volunteers re-camouflage them as a fun activity. Vulture hides provide opportunity to children and volunteers to observe vultures and other diurnal and nocturnal animals without being noticed.
Finally, we are using wildlife themes as topics children learn to do presentations, storyboards and deliver them to audiences. This aims at developing the children's public speaking skills.
We will keep you updated on the further developments of our Environmental Education program in 2020!