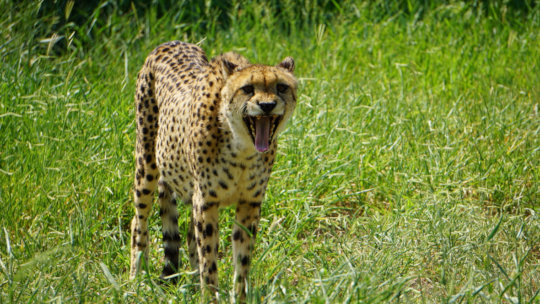 We hope you had a good start of the year and that 2020 will be a year to remember! We thought that a new year was the perfect opportunity to provide you with some new fun facts about cheetahs!
Did you know?
They are the only big cat in the feline family that cannot roar. Cheetahs actually make a loud purr similar to a domestic cat! However, don't think they are as gentle as household cats and that you can just go cuddle with them!
In addition, they make a unique bird-like sound called a "chirrup" when they are excited or calling their young cubs.
Cheetahs are the world's fastest land animal!
They can reach a top speed of 70 mph, or 113km/h. However, while running after its prey, the cheetah is normally panting heavily from the intense chase and its body reaches a very high temperature .
Therefore, they can only keep up their top speed for a few minutes before slowing down.
We hope you learnt some new things, and stay tuned for more news about Martins soon!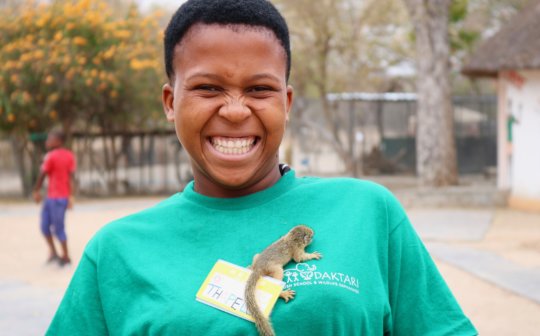 We hope you had a good start of the year and that 2020 will be a year to remember! A lot has been going on at our camp, so we wanted to update you on a few things!
After a busy year filled with kids, volunteers and animals, it was time for a few weeks of relaxation at DAKTARI. Most of our staff and long-term volunteers went on a trip for the holidays which left the camp very quiet.
We took these few weeks to recharge our batteries so we could jump into 2020 at full speed, but we also took the time to invite some of our friends and family over for a bit of quality time!
After those few weeks of well-needed rest, we can happily say that our camp is now full of life again!
Our volunteer coordinatos went to deliver a presentation about DAKTARI at Leoma school in Finale village, to recruit the first batch of children that will come to DAKTARI for a full week of environmental education.
The first children arrived mid-January when the school reopened, and they are having a great time learning about the environment in the middle of the bush! To deliver the lessons, we currently have 12 volunteers who are absolutely crushing it.
We couldn't have hoped for a better start of the year!
We hope you had a good start of the year and that 2020 will be a year to remember! A lot has been going on at DAKTARI and we are very excited to update you on our Community Outreach Program.
After saying goodbye to our Job-Hunting Program, our outreach team came up with the idea of Outreach Campaigning.
As environmental education is at the core of our organisation, we felt the need to reach as many children as possible to empower them to bring positive change to the communities and to their country.
How does it work?
When the children are busy writing exams, DAKTARI takes that time to raise awareness about environmental issues in 6 additional schools we don't usually partner with.
This is a time to reach a wider public of students from the surrounding villages where poaching and environmental degradation is still a big issue.
Every two months, the outreach team and volunteers go to these villages for an afternoon of fun and engaging teaching games. During the campaigns, the students learn about wildlife crime, anti-poaching, protection of environment and waste management.
The campaigns are a way to widen our impact to the surrounding communities, as we will reach approx. 200 additional children per year. They are Grade 7 children, who will potentially join our onsite Environmental Education program the following year, so we can really follow up with the children year after year!
WARNING: Javascript is currently disabled or is not available in your browser. GlobalGiving makes extensive use of Javascript and will not function properly with Javascript disabled.
Please enable Javascript
and refresh this page.