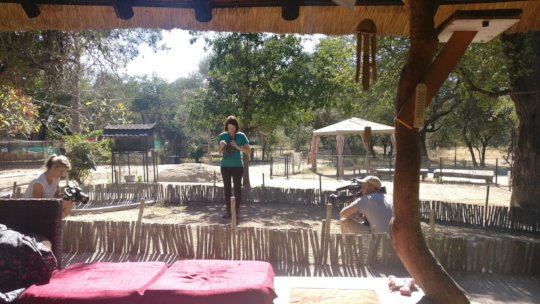 It's been a busy few months here for our animals. During the month of May we got visited by 2 big film companies who wanted to do stories on some of the incredible animals at our orphanage.
The first crew that visited our camp was Ginkgo Agency, a company from Cape Town that is currently making a new series called "Beautiful News" where they take a better look at the life story of certain animals. During their two day stay, Ginkgo Agency filmed a total of five episodes for this new series. These episodes revolve around our two African wood owls, Thor the marmoset, our crocodile, Dongo the wild dog and Tikki and Gasper, the little meerkats. As said before, these videos will revolve about the animal itself. About how they were treated, how they ended up at DAKTARI and how they live now. We're honoured that Ginkgo Agency reached out to us to capture some of our animals on film and we can't wait to see the videos!
A few weeks after that, the British film production company called Oxford Scientific Films paid us a visit. They are currently developing a new series about unusual animal friendships and came by our camp to record the interesting friendship between our marmoset Thor and baby mongooses Django and Teddy. You may recognize the name Oxford Scientific Films because they have made some really amazing animal documentaries before. Seeing the crew at work was really cool and interesting to see! The documentary won't air in the near future, but we know that the end result will be more than worth the wait.