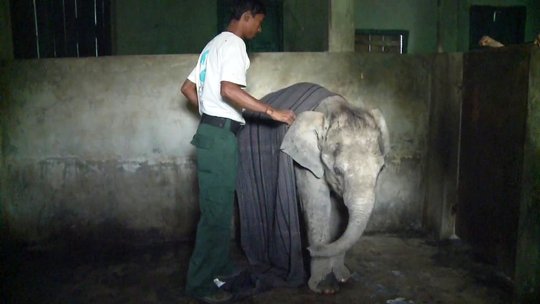 At 10 months of age, our adorable Philip is growing into a strong, happy and extremely naughty calf. He is very bashful around strangers and approaches cautiously, not wanting to miss out on anything yet keeping just a safe distance away. Hairier than the rest, Philip remains the centre of attention.
Let us also introduce you to Philip's playmates: His days are spent in the company of Rani Deephor (as mentioned in a previous report) and Lilly Nunai. Philip and Rani are quite inseparable and follow each other around. Lilly, much younger than the two, has also now joined their group. She is a little unsure around the older elephant calves and prefers the company of Rani and Philip.
Still on nine milk feeds a day, the calves (both Rani and Philip) are given a mix of Nestogen and rice gruel for their feed – a nutritious combination which is also good for their digestion. The calves have also started consuming some grass and a bit of the seed mix offered to the older calves.
The calves are taken for small walks to their favorite play pond, in Panbari Reserve Forest, which is a short distance away from the centre. The walks, although infrequent due to the presence of wild elephants in the adjacent wildlife corridor, are most pleasurable.
Although the older girls really enjoy splashing about in the water, Philip isn't very much for it and dislikes getting wet. He runs away at first opportunity, often leading Rani away with him as well. When coaxed into the water, he will scramble out at the earliest and stand across the pond, well out of reach, visibly indignant. Yet, all is forgiven and he comes running back in haste as soon as he is called to return to the Centre. He is a treat for the eyes!
Owing to the intense cold of the North Eastern winter, the calves all have blankets doubled-up and tied around them at night and an extra layer of blankets on their mattresses for warmth. They are also tucked in a little earlier due to shorter daylight hours.
We thank you from the bottom of our hearts for coming this far with us and look forward to sharing more of our elephant calves' wonderful journey with you…