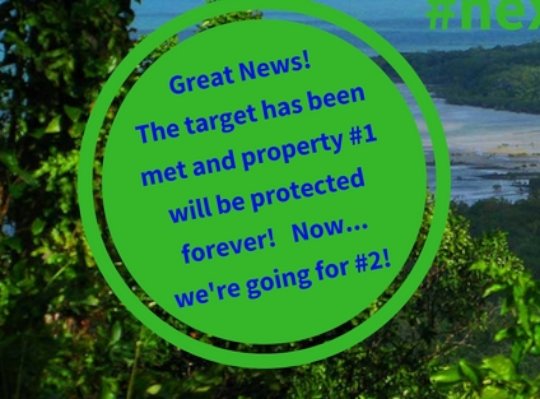 THANK YOU SO MUCH to all our Global Givers who support Rainforest Rescue's 'Adopt Vulnerable Rainforest in Australia' and answered our call to arms in April when we launched our #next 10 campaign. We urged you to continue to support us, in making a significant contribution to the ongoing protection of the magnificent Daintree lowland rainforest, its wildlife habitat and water catchment areas. Well, this is exactly what you have done!
Along with helping us purchase and protect one critically important rainforest property this past month; with your support, it looks like we will be able to now secure TWO threatened Daintree properties!
What an incredible outcome - a true testament to how when many support conservation, great things can be achieved.
The first property which we are in the stages of finalising is a Daintree Rainforest Lowland property that forms part of the all-important rainforest to Great Barrier Reef catchment. Protecting this property will contribute to fresh water flowing within the catchment and onto the Reef.
Both the Rainforest and the Reef have life forms that exist nowhere else on the planet. Both are internationally recognised as remarkable and critically important ecosystems to protect – both for now and for the future. We know that these two important ecosystems offer a great deal to the wellbeing of their surrounding areas. That makes this particular next purchase so exciting.
Also in great news, Rainforest Rescue's Emily saw a rare Bennett's Tree Kangaroo near one of our properties in the Daintree rainforest. Unlike most other kangaroo species, this one lives almost completely on the leaves of rainforest trees.
There have been more sightings in recent years in the Daintree, which is an encouraging sign for these 'near threatened' species. Further evidence that the work which Global Givers have invested in adopting and protecting vulnerable wildlife habitat, is taking effect.
Thank you again so very much.